It was one of the best-kept secrets among data hoarders and seedbox users: The inofficial unlimited cloud storage from Google Workspace. For as little as $20 per month, you were able to upload an infinite amount of data to Google Drive. An incredible value!
But the party is over. It was inevitable. Unlimited cloud storage for $20 simply isn't sustainable. Google must have lost a ton of money. And so the company started to send out notices to its customers that they will start to enforce the 5 TB storage limit per user of the popular Workspace Enterprise Standard edition.

Unlimited Cloud Storage
So what happened? Well, a few years back, Google rolled out its G Suite, which then turned into Google Workspace. It is aimed at corporate customers that require business applications, email and cloud storage for their employees. From day 1, it was advertised with storage limits for customers that had only a few paid accounts (5 if I remember correctly).
However, users quickly realized that nobody at Google kept count, or they didn't care.
And so users started to upload lots and lots of data to the cloud. To the point where some had over 100 TB stashed away in Google's data centers.
Things got really interesting when cloud storage integrations were created that allowed the remote cloud storage to be mounted as if it were a local drive on your computer. Rclone being the most popular tool, along with unionfs that practically merged your cloud and local storage, suddenly gave users unlimited storage easily accessible like any other local drive.
This obviously is a dream come true for seedbox owners. Storage is one of the most expensive components of a remote server, being able to use Google Drive suddenly allowed for virtually unlimited downloads and file retention.
While there are some limitations to using remote cloud storage for things like torrent racing and other I/O-intensive tasks, the performance is still extremely good. Streaming a 4K movie from your seedbox that is actually pulling the file from Google Drive itself still allows for smooth streaming.
Warning
Governments and ISPs across the world monitor their users' online activities. If found streaming copyright content, you could get into serious legal trouble. Currently, your IP is visible to everyone. I strongly recommend you to get the
best VPN for torrenting
and hide your identity so that your entertainment doesn't take a bad turn.
Of course, with Google now starting to enforce the storage limits as shown below, many users are in tears.
Google Workspace Edition or Subscription
Storage Limits
G Suite Basic
No longer available for new customers
30 GB per End User
G Suite Business
G Suite Business – Archived Users
No longer available for new customers
Unlimited storage
1 TB per Archived User
Google Workspace Business Starter
30 GB times the number of End Users, including Archived Users
Google Workspace Business Standard
2 TB times the number of End Users, including Archived Users
Google Workspace Business Plus
5 TB times the number of End Users, including Archived Users
Google Workspace Enterprise Starter
1 TB times the number of End Users
Google Workspace Enterprise Standard
Google Workspace Enterprise Plus
5 TB times the number of End Users, including Archived Users
For customers with 5 or more End Users, more storage may be available at Google's discretion upon reasonable request to Google Workspace support.
Storage Limits for Google Drive
Users now have a 60-day grace period to either buy additional storage space or delete data in the cloud to meet the new restrictions. Else, your cloud drive becomes read-only. Yikes!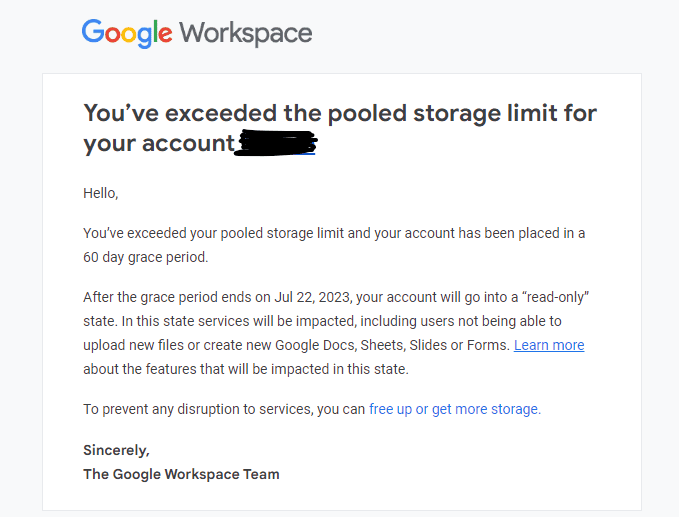 Alternatives to Unlimited Google Drive
Unless you want to delete your data in the cloud or shell out lots of money for additional storage space, moving away from Google seems to be the only option at this point. Since I am also affected by this change, I have looked at all viable alternatives to unlimited cloud storage from Google.
The Big Purge
Delete your data to meet the new storage limits. But let's be honest, for many this will not be an option. However, ask yourself, do you really need all those old movies you may have downloaded 5 years ago?
You may be surprised how much data you can erase if you are able to let go of your inner data hoarder. On the other hand, especially for those that use BitTorrent as opposed to Usenet, deleting data also means not being able to seed back to the community.
Beef Up Your Seedbox
Many may already be using a seedbox that was purchased with limited storage due to the convenience of unlimited G Drive. While storage tends to be expensive, think about how much you will really need and shop around for different seedbox plans to meet your requirements. Check out my list of seedboxes here.
Switch to a different cloud provider
This will be the likeliest option for most. If you want to stay the course and aggressively download and store data for years to come, moving to another cloud provider that offers unlimited storage is your best bet.
If you look around at who actually provides unlimited space and provides public API access to allow integrations such as rclone, there is really only one name that pops up: Dropbox Business
Sadly, Dropbox Business isn't exactly as affordable as what you may be used to. Unlimited storage starts with their Advanced plan and a minimum of 3 users. That will set you back €54 per month. Still, great value if you really need a lot of space. But not exactly cheap either.
So I am seeing a lot of seedbox users join forces and share Advanced accounts. This certainly drives the price down. But be wary that your data may not be safe and freely accessible to whoever is the admin of the account. Only do this with people you trust and even then, I would encrypt all data on the cloud.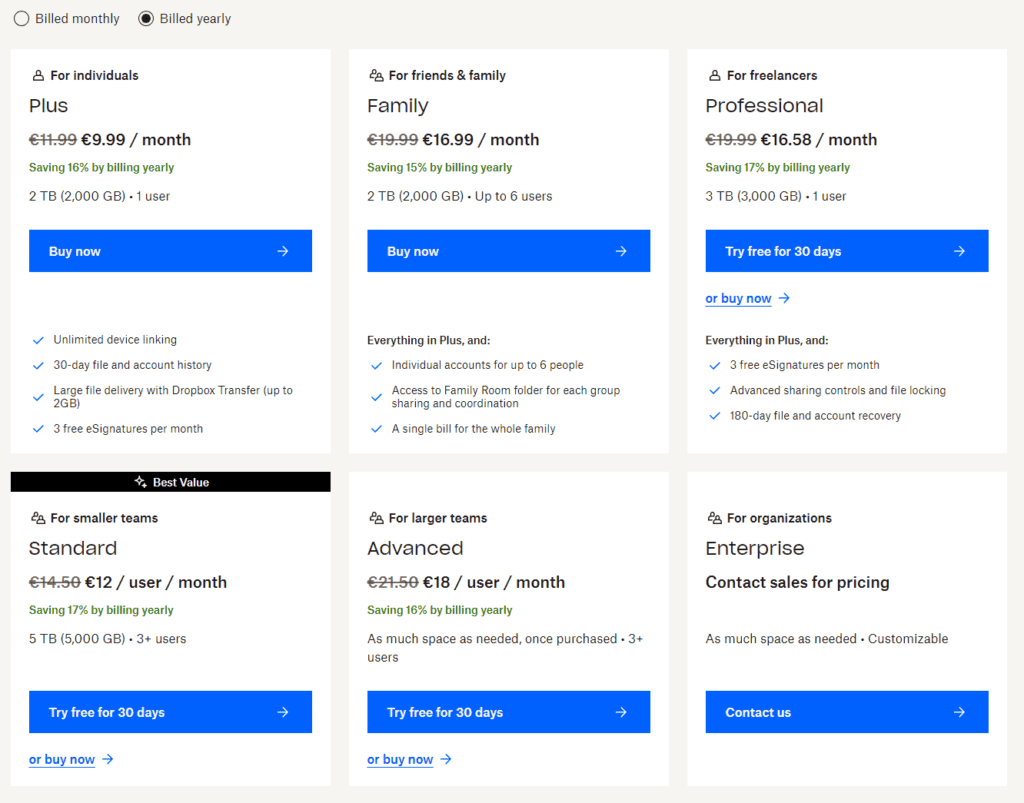 Also, I do want to highlight that there is nothing that keeps Dropbox or any other service to adjust its terms and start limiting either storage space or transfer capacity. So you may again be looking for the next provider in a few months or years.
Local NAS Storage
This certainly isn't your cheapest option in terms of upfront costs. But, over the long term, it may very well be worth it. If you either already have a NAS, or an old PC that you don't require anymore, you could simply store your data at home.
Of course, this requires a decent Internet connection, someplace to keep the NAS running safely, and there may be privacy concerns if you intend to seed torrents from that machine.
But, it gives you full control of the data and avoids any future headaches.
Final Thoughts
I myself have been a heavy user of the unlimited Google Drive. An era has come to an end. And I have to say, I am surprised it lasted as long as it has. But luckily, there are viable alternatives and Google gives you enough time to figure out your next move and transfer your data to its next home. Where this will be is up to you. I am yet to decide myself, but I am pretty sure that it's either going to be a local NAS at home or a Dropbox Business account. Let me know what you are doing in the comments below.