Many different packages that are very comprehensive
SSD storage plan
Multiple payment methods
Very large storages
Very affordable prices
Unlimited bandwidth
14-day money-back guarantee
Good UI and Dashboard
No live chat or phone contact
Does not have 24/7 customer service
Limited connection speeds
No GPU transcodes
Very low app support

Seedbox.io: The Definitive In-Depth Review for 2023
Seedbox.io has a reputation as one of the best seedboxes to get regardless of your preferences or budget. Seedbox.io certainly seems like it has a lot to offer and the number of packages alone could make someone's head spin. But in order to really see if it is the cream of the crop, this in-depth analysis and review will show you everything for you to decide whether it is really the best seedbox or not.
April of 2021, Seedbox.io announced a new lineup for their shared and dedicated server plans, which we'll also discuss in this review. Whether it's payment methods, Plex server support, network performance, or another key feature, get ready to discover all you need to know about Seedbox.io.
---
Packages, Pricing and Server Specifications
As briefly mentioned in the intro, Seedbox.io is bursting at the seams when it comes to its packages and plans. This seedbox provider has just as many package categories as other seedboxes have packages themselves.
Seedbox.io offers six different package categories. They include three Shared Server Plans and three Dedicated Server Plans as follows:
There are a total of 39 individual plans, which makes Seedbox.io's options so comprehensive that it might actually be impossible to find a seedbox enthusiast who isn't satisfied by one of them.
Warning
Governments and ISPs across the world monitor their users' online activities. If found streaming copyright content, you could get into serious legal trouble. Currently, your IP is visible to everyone. I strongly recommend you to get the
best VPN for torrenting
and hide your identity so that your entertainment doesn't take a bad turn.
shared app box
The Shared App Box, as its name implies, is perfect to have if you want to experience more flexibility of the apps Seedbox.io offers. With the Shared App Box range of plans, you'll also be able to get technical support in popular seedbox applications like Plex, Jellyfin, and Emby. This well-thought range of plans is installed on the fastest hardware you can possibly find today so you can expect a seamless and intuitive setup for your apps.
These app boxes are hosted at Leaseweb where the public trackers are supported, the download bandwidth is unmetered, and the users per disk are kept to a maximum of 4 users, which is an incredibly all-time low number to ensure your optimum app box experience.
There are six app box plans ranging from €14.95 per month to €59.95 per month. Disk space ranges from 2 TB to 12 TB while upload traffic ranges from 10 TB to 60 TB.
All Shared App Box Plans Include: Quality Networks, Bouncer Servers, Unlimited Download Data, and Instant Setup.
Included Apps: qBittorrent, Deluge, rTorrent, Sonarr, Radarr, Lidarr, AutoDL-irssi, Bazarr, Medusa, Ombi, NzbGet, Sabnzbd, Plex, Tautulli, Emby, Jellyfin, Jackett, Resilio, Reverse SSH Plex Tunnel, WireGuard, and Rclone (Rclone does not support mounting).
SHARED SEEDBOX
Seedbox.io's Shared Seedbox Plans act as standard plans for their affordability. If you're not that heavy user, you can opt for the cheapest plan they could offer. For as low as €5.49 per month, you can already enjoy a range of seedbox functionalities with a 600 GB disk space.
As you pick the higher tier of plans, it will get to a point where you'll enjoy a dedicated server as well as a significant increase in bandwidth, torrent speed, and server speed.
All Shared Seedbox Plans Include: Quality Networks, Unlimited Data, and Instant Setup.
Included Apps: rTorrent, AutoDL irssi, Resilio (bt)Sync, OpenVPN, and FTP, FTP(S), SFTP.
SHARED STORAGE BOX
The Shared Storage Boxes are specifically meant for long-term seeding and other activities that need a huge amount of storage. These plans come with more storage compared to other plans. With a minimum of €12.49 and a maximum of €42.49 per month, you'll have a fast server having a disk space that ranges from 4TB to 16TB.
All plans under the Shared Storage Boxes are hosted at NFOrce and Leaseweb. You can experience distinct features on these plans such as availability of re-routing on NFOrce, and unlimited bandwidth. Public trackers are supported, and there's no cap on data limits.
All Shared Storage Box Plans Include: Quality Networks, Unlimited Data, and Instant Setup.
Included Apps: rTorrent, AutoDL irssi, Resilio, OpenVPN, and FTP, FTP(S), SFTP.
Dedicated NForce Server
If you want to have a dedicated seedbox server, the NForce is one of the best options to have. It comes with three basic plans and a customized plan which can highly be tailored for your needs. The NForce seedboxes are provided by Seedbox.io's sister company, walkerserver.com.
The predetermined prices range from €69 per month to $89 per month. They all have unlimited bandwidth with 8 TB storage. But of course, the cost and features of the customized plan will greatly depend on your personal preference.
All Dedicated NForce Plans Include: Public's Allowed, Root Access, Quality Networks, Pre-Tuned, Setup within 48 Hours.
Included Apps: You can install all the supported Swizzin applications.
Dedicated Leaseweb Server
The Dedicated Leaseweb Server comes with pre-configured servers at the lowest possible price point. The price starts at €24.95 per month, which is the cheapest among all Seedbox.io's dedicated server plans. Most of these plans have 16 GB of RAM, while the highest tiers have 32GB and 128GB, making them better for running multiple applications or downloads.
Disk space ranges from 4 TB to 120 TB. All plans have a bandwidth of 100 TB @ 10 Gbit. With these kinds of specs, it's very easy to see why most packages are pricier.
All Dedicated Leaseweb Plans Include: Public's Allowed, Root Access, Quality Networks, Pre-Tuned, Setup within 48 Hours.
Included Apps: You can install all the supported Swizzin applications.
Dedicated Hetzner Server
The Dedicated Hetzner Server comes with quality hardware at the lowest cost around. It has six individuals plans that have less storage than the Leaseweb plans but have better CPUs and more RAM than NFOrce plans. Prices range from €35 per month to €89 per month. Storage ranges from 6 TB to 64 TB, and all of them have unlimited bandwidth of 1 Gbit.
All Dedicated Hetzner Plans Include: Root Access, Quality Networks, Pre-Tuned, Setup within 48 Hours.
Included Apps: You can install all the supported Swizzin applications.
The Versatility of Seedbox.io's Products Lineup
As you can clearly see, Seedbox.io takes its versatility very seriously. With so many different plans, anyone can find the one that best suits them based on all relevant details, including the storage space, the disk type, the bandwidth, the RAM, and more. Seedbox.io has the most in-depth package plans of any seedbox I have ever seen and for that, they deserve some recognition.
When it comes to the network performance itself, this will vary depending on whether you are using the Dedicated Server plans or the shared plans. Although quite pricey, choosing dedicated servers would always be the best option if you want to have the best speeds and features.
But that doesn't mean Seedbox.io's shared plans don't stand a chance. In fact, they're best for seedbox fanatics who want to have an affordable service without compromising their seedbox experience.
Features
To start off, it is important to note that Seedbox.io lacks a couple of features some would consider important. These include GPU Transcode and integration with Google Drive. It's a bit of a shame and may turn some people off from this seedbox.
What Seedbox.io is great at, however, is their phenomenal uptime. They rank among the very best seedboxes out there thanks to their 99.9% guaranteed server and network uptime, which makes them one of the most reliable seedboxes.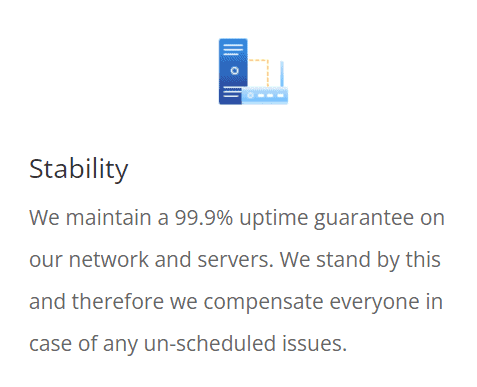 Seedbox.io also has one of the best seedbox user interfaces you can find. It can be accessed through just about any web browser, and it is very easy to load in torrents and keep track of them.
When it comes to security, Seedbox.io uses FTP, FTPS, and FXP encrypted connections as they only rely on the most dependable ways to safely transfer your data.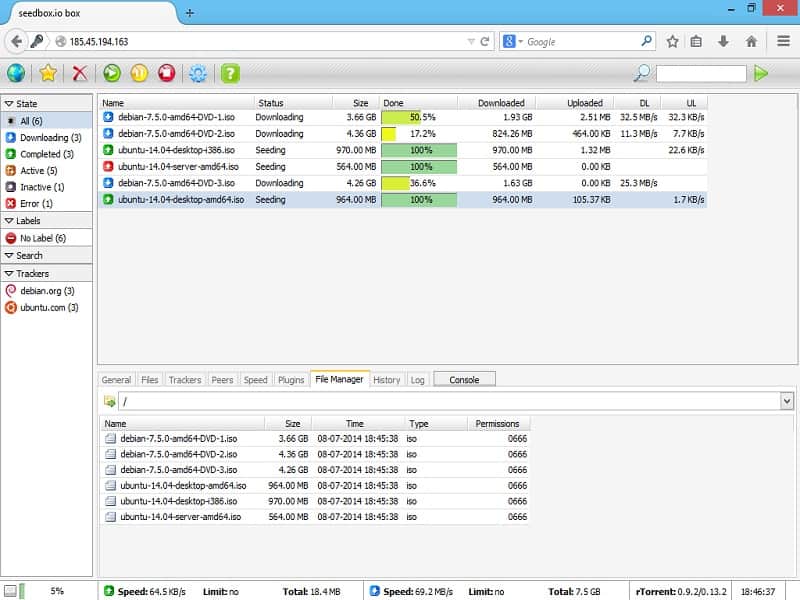 Public trackers are also allowed in all packages, which is great news for users who are prone to seeding and uploading from piratebay and other easily accessible trackers.
Seedbox.io is also compatible with OpenVPN like many other seedboxes, which is a good way to add an extra layer of protection by keeping yourself anonymous as you look for content to download and upload.
All Dedicated plans offer root access. This means you have complete access to the server's inner workings. On the other hand, Plex Media Support is not available in their more basic plans but does come integrated with their Shared App Box plans and Dedicated Server options.
App Support
This is going to be the one and only area where this otherwise great seedbox takes a bit of a hit. When it comes to app support, Seedbox.io is surprisingly very sparse. This is odd considering how immensely in-depth they are when it comes to other aspects of their service like their 39 different server and slot plans.
Officially, Seedbox.io only has support for the rTorrent client and Resilio Sync. That means that you cannot use other popular torrent clients such as Transmission or Deluge, and many other great apps related to syncing files, automatically downloading new content in high quality, etc.
Luckily, rTorrent is one of the best and most popular torrent clients out there, so even if you are used to a different one, it is not too big of a deal to be forced to use one of the best ones available. It is quite a shame, however, that Seedbox.io is so lacking in-app support.
The ability to load in dozens of useful apps is arguably one of the best things about using a seedbox in the first place. It is this flaw that keeps Seedbox.io from being what could have been a near-perfect seedbox.
Installation and Management
Because the UI is so good, managing your torrents is very simple with Seedbox.io. Everything is pretty straightforward and the options and configuration settings are simple to access. Nothing about the presentation is convoluted. Combine this with the fact that Seedbox.io has excellent server uptime and you'll be able to have your downloads or uploads running in the background with very little maintenance on your end.
How easy installing Seedbox.io will depend entirely on which kind of plan you opt for. If you end up choosing one of their Premium or SSD slot plans, you will be given the option to use the instant installation feature, which will only take a few minutes at the most.
On the other hand, if you opt for one of their Dedicated Server plans then you will have to configure the dedicated server yourself. The staff at Seedbox.io can help you with this task, which leads us to our next section.
Installing the apps is really simple, we provide you SSH access and after you connect to your slot with your preferred terminal application, issue the command "box install plex", for example, and your application will be installed. We are looking to add more apps in the future as well, so stay tuned.
Support and Wiki
The bad news about Seedbox.io's customer service is that they do not have 24/7 service. The good news is that they have excellent response times and always provide meaningful answers, regardless of the nature of your question.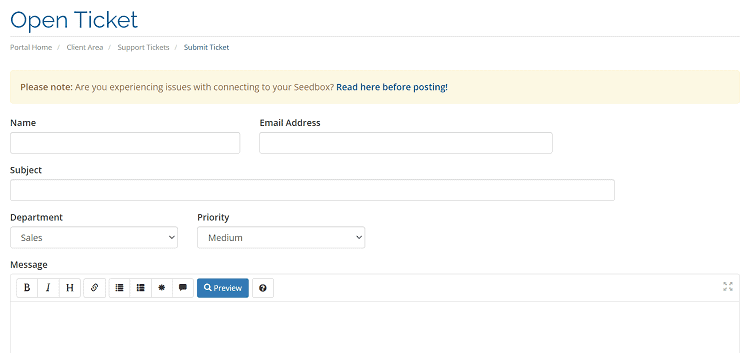 While Seedbox.io does use a ticket-based system, they are known for getting back to you in less than an hour. This is very impressive considering that most seedboxes that use this system take a lot longer to respond.
The staffs are clearly very skilled and enthusiastic about their service. They are so dedicated that they have even been known to help out people in forums and posting boards, so you may even get lucky with whatever issue you're having without even going through their usual channels!
The Wiki and FAQ page is decent, though it doesn't address too many subjects. Part of the reason for this is that Seedbox.io isn't compatible with too many apps in the first place.

Their wiki covers setting up rTorrent and ResilioSync, along with things pertaining to public trackers and torrent clients, the renewal process, connecting to OpenVPN, and things of a similar nature. More advanced inquiries you may have will have to be answered via email using their ticket system.
Payment Methods
Much like their slot and server plans, Seedbox.io offers a myriad of ways you can submit payment. In fact, it's probably the most comprehensive list of payment methods any seedbox has offered.

Seedbox.io accepts popular credit cards like Visa, MasterCard, and American Express, which is to be expected. They also accept Paypal payments and Bitcoin payments like many other seedboxes. Even a couple of other cryptocurrencies such as Ethereum and Litecoin will also work here.
However, they still manage to exceed the standard expectations, even here. They will also take money from a lot more payment methods. But I advise you to pay using any of the following to enjoy zero-fee transactions: PayPal, Credit/Debit cards, Bitcoin & Altcoins, WebMoney, Moneta, Paytm, UPI India, and Boleto Brasil. The gist of it is that if you have any preferred online payment method, the odds are extremely high that Seedbox.io will accept it.
Seedbox.io also offers a 14-day money-back guarantee, twice as long as what most seedboxes offer.
Final Verdict
The lack of GPU transcode and the limited connection speeds with some packages can be a problem for some users.
Despite this, Seedbox.io truly excels in literally every other major area. The sheer list of packages and plans is so comprehensive that it manages to appeal to every possible Seedbox customer. The customer service is stupendous despite only using email, and let's not forget to mention that the extreme security and uptime are really top-notch.
While I think that some people may be turned off too much by the subpar app support, there is simply too much going on here to say that this isn't one of the best seedboxes out there. The pricier options give you so much to work with, while the cheapest options are undeniably great values. Seedbox.io gets two thumbs up at the end of the day.