Very clean user interface with customization options
Unlimited bandwidth
20Gbps network speed
Root access
GPU Transcoding
Wide selection of apps
Easy to use
Not all apps are auto-updated
Customer service is very slow

---
Cloudboxes.io: An In-Depth Review for 2023
When browsing the internet looking for a good seedbox, Cloudboxes.io is always one of the more popular names that pop up. While it certainly has a great reputation, that alone is not enough of a reason to go sign up. That's why these in-depth reviews are so useful. That way, you can learn all there is to know about a seedbox before you make a commitment.
If Cloduboxes.io has made it onto your shortlist, this article is for you. We are going to put this seedbox under a microscope and look at its app support, main features, Plex server support, pricing plans, and more, and really tell you if this is one of the best seedboxes available or not.
Packages, Pricing and Server Specifications
Cloudboxes.io used to offer only three different premium shared packages: Small, Medium, and Large. But recently, they've added NVMe and Dedicated packages, which are great options for anyone who prefer more advanced seedbox features.
Premium Shared
Small Seedbox
14.95€ per month
10G NVMe + 1 TB HDD hybrid storage
4 TB + 100 Mbit unmetered outgoing traffic
GPU transcode costs 10€ per month
Dedicated IP costs 5€ per month
20 Gbps network speed
Root access
Medium Seedbox
29.95€ per month
20G NVMe + 3 TB HDD hybrid storage
12 TB + 100 Mbit unmetered outgoing traffic
GPU transcode costs 10€ per month
Dedicated IP costs 5€ per month
20 Gbps network speed
Root access
Large Seedbox
79.95€ per month
30G NVMe + 6 TB HDD hybrid storage
35 TB + 100 Mbit unmetered outgoing traffic
Dedicated IP costs included
20 Gbps network speed
Root access
GPU Transcoding
NVMe Hybrid Boxes
NSmall Seedbox
29.95€ per month
256G NVMe + 1 TB HDD hybrid storage
8 TB + 100 Mbit unmetered outgoing traffic
GPU transcode costs 10€ per month
Dedicated IP costs 5€ per month
20 Gbps network speed
Root access
NMedium Seedbox
59.95€ per month
512G NVMe + 3 TB HDD hybrid storage
20 TB + 100 Mbit unmetered outgoing traffic
GPU transcode costs 10€ per month
Dedicated IP costs 5€ per month
20 Gbps network speed
Root access
NLarge Seedbox
139.95€ per month
1024G NVMe + 6 TB HDD hybrid storage
50 TB + 100 Mbit unmetered outgoing traffic
GPU transcoding
Dedicated IP
20 Gbps network speed
Root access
NVExtra Seedbox
199.95€ per month
1024G NVMe + 12 TB HDD hybrid storage
80 TB + 100 Mbit unmetered outgoing traffic
GPU transcoding
Dedicated IP
20 Gbps network speed
Root access
Dedicated Boxes
XL8 Seedbox
89.95€ per month
8 TB HDD storage
16 GB RAM storage
1 Gbps network speed
Re-Routing
Dedicated IP
Root access
XL8SSD Seedbox
109.95€ per month
120 GB SSD + 8 TB HDD hybrid storage
32 GB RAM storage
1 Gbps network speed
Re-Routing
GPU transcoding
Dedicated IP
Root access
Those who have been exposed to other seedbox plans may be a little disappointed that Cloudboxes.io's very useful options like GPU transcoding will cost extra for the Small and Medium premium shared packages. Otherwise, you have to shell off an additional 10€ per month to enjoy this feature. The cheapest plan that already includes the GPU transcoding starts at 79.95€ per month.
Additionally, the monthly fees of these plans are not the cheapest, to begin with. The small plan is certainly affordable but it will double in price if you also want GPU transcoding and a dedicated IP.
Warning
Governments and ISPs across the world monitor their users' online activities. If found streaming copyright content, you could get into serious legal trouble. Currently, your IP is visible to everyone. I strongly recommend you to get the
best VPN for torrenting
and hide your identity so that your entertainment doesn't take a bad turn.
Keep in mind that all premium shared packages offered by Cloudboxes.io use shared servers, so even though 20 Gbps sounds like a lot, you will in all likelihood be sharing them with several other people.
Now if you prefer better storage and more advanced features, you're in luck! Cloudboxes.io now offers NVMe hybrid boxes and Dedicated boxes on top of their shared plans.
With the NVMe Hybrid plans, you'll experience faster response times and better IO power even if you're using multiple services at a time. While NSmall and NMedium NVMe plans require an additional 10€ per month for GPU and a dedicated IP for 5€ per month, you can enjoy these features without any additional costs in NLarge and NVExtra plans that start at 139.95€ per month.
All NVMe plans have 20 Gbps network speed, root access, and a wide variety of installable apps.
For Dedicated boxes, on the other hand, the plans already include dedicated IP out of the box. These boxes boast the same awesome look and feel like the shared boxes while providing guaranteed power. However, unlike the other plans, dedicated boxes require a non-refundable setup fee of 49.95€. This cost is quite hefty knowing other seedboxes offer no setup fees for their dedicated plans at all.
Features
While Cloudboxes.io may be lacking when it comes to providing free important features, it makes up for that with its large list of useful attributes. We've already touched upon the fact that dedicated IPs and GPU transcoding are only available in the Large package, so now we'll discuss what is guaranteed to be available to you regardless of what you pick.
Cloudboxes.io is compatible with the top media players including Plex, Emby, and Jellyfin. Plex servers are also very easy to install as they can be accomplished right from the dashboard.
Speaking of which, Cloudboxes.io has a very snazzy UI that is not only very easy on the eyes but is designed in a very intuitive manner.
It even comes included with a Dark Theme mode that alters the colors to be even easier to look at, especially at nighttime.
This seedbox is also quite impressive when it comes to security features.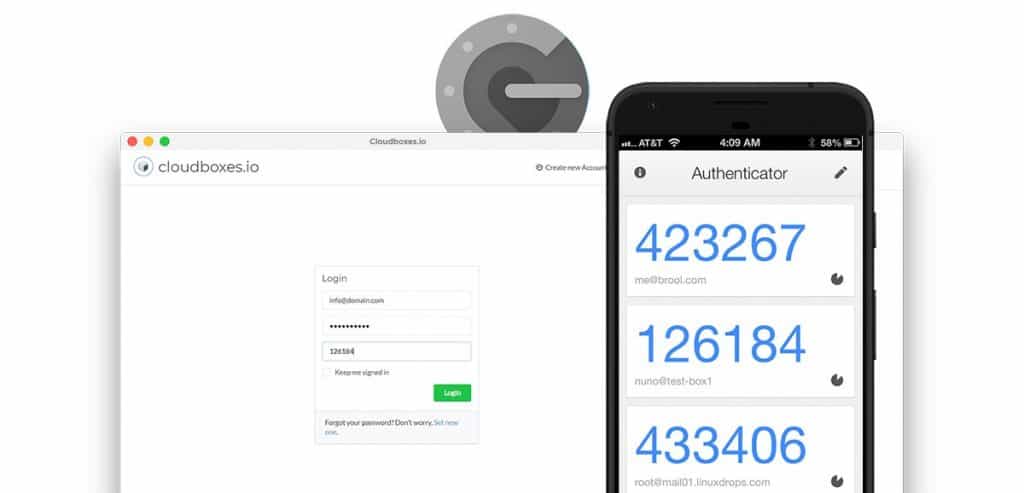 Cloudboxes.io uses two-factor authentication and also enabled 256-bit SSL encryption (Secure Sockets Layer) with all compatible apps.
All Cloudboxes.io packages also give you complete Root Access to the VPS, which is a fantastic feature for more technical users who want total control over administrator-level configurations and system settings. Root Access can also be combined with a dedicated IP so that you will be given full port range, which will really come in handy for torrents and installing additional apps.
Speaking of torrents, Cloudboxes.io can be used with all of the popular torrent clients such as Deluge, Transmission, and ruTorrent. Each one works perfectly and can be installed within mere seconds.
One feature that will be great news to many is the seamless Google Drive integration that Cloudboxes.io also offers.
Additionally, Cloudboxes.io allows public trackers so that your torrents will always be easily discoverable for improved seeding ratios.
When it comes to the network speeds for uploading and downloading, Cloudboxes.io isn't the fastest but it does handle pretty well. In the middle of downloading multiple torrents, this seedbox can often reach 70Mbps despite being a shared server, which is ultimately pretty good. You will have to make sure to manually set the download and upload speeds to the unlimited setting so that the forced default cap will be turned off.
The UI of Cloudboxes.io looks pretty standard and is definitely reminiscent of more popular torrent clients like uTorrent. While it looks a little barebone, it functions perfectly well and is easy to toy with even for beginners.
App Support
On top of Cloudboxes.io's very solid list of built-in features, it does fare nearly as well when it comes to app support or app compatibility. Overall, Cloudboxes.io supports a total of 81 apps. That number is already competitive compared to what other seedboxes offer. Plus, the apps are just one click away.
One popular app that works well here is Sonarr, which allows you to automatically monitor and seek out content from Usenet or torrent clients. This is one of the most valuable seedbox apps out there because of how much more convenient your downloading will be. As a result, it is great news that it has perfect compatibility with Cloudboxes.io.
Another very similar app that has support here is CouchPotato. It works like Sonarr by automatically downloading movie content for you in the highest quality available.
Fans of popular media streaming systems like Emby and Plex will be happy to hear that Plex and Emby servers have support here as well.
One important app that is a great boon here is Syncthing, which makes file synchronization an absolute cinch. This will be a very important app to install for anyone who really needs to have hundreds if not thousands of gigabytes of data to be as well organized as possible.
One great app that isn't compatible with too many seedboxes is Storj, a decentralized cloud storage app that has fantastic performance and is wonderful for storing files in a highly protected and anonymous way. Cloudboxes.io definitely gets some bonus points for being one of the few seedboxes that support this app.
Cloudboxes.io is also compatible with Rclone Mount, Nextcloud, File Manager, and a few more. While the list isn't huge, Cloudboxes.io can still become a very solid seedbox if all or most of these apps are installed.
It is also important to note that Cloudboxes.io supports the '1-click installation' feature. It works excellently and allows you to install any of these apps instantly. This allows you to load up your seedbox with all the essential tools you need as fast as possible so that you can have optimal downloading and uploading before you even get started.
Installation and Management
Like many of the best seedboxes out there, Cloudboxes.io can be installed very easily and very quickly by just about anyone. It comes with the option to be implemented via the instant installation feature. Combine this with the 1-click app installation feature and Cloudboxes.io is super simple to get working.
As for managing the seedbox itself, it's pretty straightforward. Cloudboxes.io is something I would classify as one of the simpler seedboxes when it comes to configurations and settings. It is very beginner-friendly but the Root Access option also makes it appealing to more advanced users.
Managing your downloads is very easy to do, even without extra file sync apps and the like. Overall, Cloudboxes.io rates very highly when it comes to installation and management.
Support and Wiki
One of the areas where Cloudboxes.io unfortunately suffers is customer support. This is going to be a hit-and-miss area in general as some people have reported positive experiences, but generally, Cloudboxes.io has some very slow response times.
While their customer support is actually pretty good when it comes to providing helpful answers, they use a ticket-based system for replying to customers and it is one of the slowest systems I've used for a seedbox. I would not recommend using it too often unless you are feeling either very desperate or very lucky.
Things start to look up a bit once we start to look at their wiki. It isn't the most comprehensive seedbox wiki out there, but it definitely gets the job done. It doesn't answer the more technical questions about the seedbox though, which is a shame as the only available route left to you is to deal with the sluggish customer service.
Despite that, the wiki does have some useful information related to general tips, networking, and details on some apps. It is a useful and relatively short wiki I would recommend reading before using Cloudboxes.io, especially if this is your first time using a seedbox at all.
Payment Methods
What perhaps might be the most puzzling aspect of Cloudboxes.io is the omission of traditional payment methods. You cannot use credit or debit cards to purchase one of their seedboxes. While this is a good thing in the sense that Cloudboxes.io takes security and privacy very seriously, it does place a limit on a lot of people who prefer to pay the usual way.
What Cloudboxes.io does allow you to pay with are Paypal payments, Bitcoin, and Altcoins. Paypal is not particularly anonymous so it is odd to think that they are not accepting credit card payments on that basis alone.
While their payment methods are great for those who want to pay anonymously, the absence of credit card options is curious, to say the least.
Cloudboxes.io also offers a 7-day money-back guarantee that applies to all three of their payment options, which gives you a decent amount of time to test drive the seedbox to see if it is to your liking.
The Verdict
Cloudboxes.io is one of those seedboxes that is very easy to recommend to some people, but certainly not everyone. This is a very good seedbox for first-timers as installation and management are very simple and the small plan offers a good number of features for a solid price.
Cloudboxes.io also offers some solid network speeds, but they are nowhere near the top speeds offered by a seedbox and may be a little disappointing to those who prefer to always download multiple files at once. The slow customer service can also be a drag at times and the limited number of packages may be a turnoff for more picky customers.
The app support is good in terms of performance, but a little lackluster when it comes to how many are compatible in the first place.
While it undeniably has its fair share of problems, Cloudboxes.io still manages to be a very viable seedbox thanks to unlimited bandwidth, a good UI, and its very intuitive design that is always easy to use. If you are looking for your first seedbox then this is a very good choice. Just make sure to install as many apps as possible so you can really unlock its true potential.