Great range of packages for those on a budget
Unlimited bandwidth for some packages
Plex server and GPU transcoding
Public trackers are always allowed
Multiple payment methods
Speeds can sometimes drop dramatically when using VPNs

---
UltraSeedbox: An In-Depth Review for 2023
If you're trying to decide which seedbox you should opt for, Ultraseedbox is definitely worth consideration. It is one of the more popular seedbox options out there thanks to its very large number of plans and packages as well as having many other features that are hard to find in other seedboxes.
If you're curious to find out if Ultraseedbox is the right choice for you when it comes to app support, pricing, Plex media server features, and more, get ready to dive into this extensive review of Ultraseedbox.
Packages, Pricing and Server Specifications
What makes Ultraseedbox special is the massive number of plans that they offer. In total, Ultraseedbox offers a whopping 12 plans that all come with unmetered downloads. They are separated across three primary categories: Essential Plans v2, Tank Storage Plans, and Bolt NVMe Plans v2.
Essential Plans v2:
Lancer-V2
$5.55 per month, or $5 per month yearly
50 Gbps Network
1 TB HDD storage
2 TB Upload, Unlimited Download
Spirit-V2
$8.92 per month, or $8.03 per month yearly
50 Gbps Network
2 TB HDD storage
4 TB Upload, Unlimited Download
Eagle-V2
$12.28 per month, or $11.05 per month yearly
50 Gbps Network
3 TB HDD storage
6 TB Upload, Unlimited Download
Tank Storage Plans:
Sabra
$16.77 per month, or $15.09 per month yearly
50 Gbps Network
4 TB HDD storage
8 TB Upload, Unlimited Download
Includes Plex, Emby, and Jellyfin
Panzer
$25.24 per month, or $22.71 per month yearly
50 Gbps Network
6 TB HDD storage
12 TB Upload, Unlimited Download
Includes Plex, Emby, and Jellyfin
Leopard
$33.59 per month, or $30.23 per month yearly
50 Gbps Network
8 TB HDD storage
16 TB Upload, Unlimited Download
Includes Plex, Emby, and Jellyfin
Abrams
$50.42 per month, or $45.37 per month yearly
50 Gbps Network
12 TB HDD storage
24 TB Upload, Unlimited Download
Includes Plex, Emby, and Jellyfin
Challenger
$67.24 per month, or $60.52 per month yearly
50 Gbps Network
16 TB HDD storage
32 TB Upload, Unlimited Download
Includes Plex, Emby, and Jellyfin
Bolt NVMe Plans v2:
Mustang-Pro v2
$27.98 per month, or $25.24 per month yearly
50 Gbps Network
1TB High-Speed NVME's
40 TB Upload, Unlimited Download
Includes Plex, Emby, and Jellyfin
Hercules-Pro v2
$56.02 per month, or $50.42 per month yearly
50 Gbps Network
2TB High-Speed NVME's
100 TB Upload, Unlimited Download
Includes Plex, Emby, and Jellyfin
Harrier-Pro v2
$84.06 per month, or $75.66 per month yearly
50 Gbps Network
3 TB High-Speed NVME's
150 TB Upload, Unlimited Download
Includes Plex, Emby, and Jellyfin
Mirage-Pro v2
$112.10 per month, or $93.46 per month yearly
50 Gbps Network
4 TB High-Speed NVME's
250 TB Upload, Unlimited Download
Includes Plex, Emby, and Jellyfin
There is a lot to unpack here as anyone can clearly see. Starting with the Essential Plans, they all offer very affordable prices with very solid network speeds, network traffic, and online storage despite the cheaper than average fees.
Their one downside is that none of them come with the bonus features included in the more expensive options such as GPU accelerated transcode, Emby and Jellfyin apps, and most notably Plex servers. Despite the lack of these extra features, the Essential Plans still offer some very good server specs and are a good choice for anyone looking for a simple and affordable Torrent or Usenet downloader.
Warning
Governments and ISPs across the world monitor their users' online activities. If found streaming copyright content, you could get into serious legal trouble. Currently, your IP is visible to everyone. I strongly recommend you to get the
best VPN for torrenting
and hide your identity so that your entertainment doesn't take a bad turn.
Now if you want to opt for plans that already include useful apps like Plex, Emby, and Jellyfin, then the Tank Storage Plans might be best for you. These plans may be more expensive than the Essential Plans, but in return, you'll get better storage, higher upload limits, and helpful apps as mentioned above.
Regarding the most expensive category of plans, the Bolt NVMe Plans v2, all come with Plex media servers, Emby, and Jellyfin. They also offer massive amounts of upload traffic that easily trumps what is available in the prior plans. Some of the prices, such as the Harrier-Pro v2 and Mirage-Pro v2 plans, are very high and will probably be out of most people's price ranges.
Regardless, the cheaper NVMe plans still offer some fantastic prices. The Mustang-Pro v2 plan specifically is very affordable while including a Plex media server along with impressive server specs.
In NVMe plans, however, you will have to sacrifice some storage space at equal prices between these plans and the other ones but these NVMe speeds can be so incredible that they're heavily worth considering if storage space isn't as much of an issue for you.
Features
One aspect of Ultraseedbox that will appeal to everyone is that it has an impressive network speed of 50 Gbps for all plans and unlimited monthly downloads. Keep in mind that this great feature applies to all 12 packages. When it comes to uploading, however, this will range from 1 TB monthly and upwards depending on which package you go for.
The inclusion of media players like Emby, Jellyfin, and Plex servers are exclusive to certain packages, but the Plex plans have cheap options so that even people on a budget can have access to them for a reasonable price.
A similar thing can be said about Ultraseedbox's GPU transcoding. While it is only available in the NVMe plans, some of them are quite affordable.
While Ultraseedbox doesn't offer root access per se, the NVMe plans do offer SSH access. While you won't have the typical administrator privileges associated with traditional root access, you will still be given some access to the actual terminal and will be able to tinker around with a couple of options.
Another good thing about Ultraseedbox is that it has Google Drive integration, which will be a great thing to take advantage of for people who want file synchronization across multiple locations.
Generally speaking, the network speeds of Ultraseedbox are very impressive. You can reliably reach 200Mbps+ for both upload and download speeds, which makes Ultraseedbox a fantastic choice for heavy users of Torrent and Usenet clients.
There is an unfortunate drawback to this though, which is the massive dip in speeds that Ultraseedbox takes when using a VPN. While VPN will work fine with Ultraseedbox when it comes to security and privacy, both download and upload speeds will take a considerable hit and will rarely go above 20Mbps. Your ping will also take a bit of a hit and will at least double.
While under normal circumstances Ultraseedbox has some phenomenal network performance, users who are dedicated to using VPNs may find the performance here to be disappointing, to say the least.
To make this a little easier to swallow, Ultraseedbox does fully allow public trackers. They are available with all 12 of their packages and can be used for both downloading and uploading or seeding data.
Lastly, the UI of Ultraseedbox is pretty solid overall. It's not the most stylish looking, but the various settings are easy to access and all of your apps and settings are simple to reach.
App Support
Ultraseedbox has a commendable list of app support. At least 35 different apps are compatible with this seedbox. Most apps can be installed very easily just by using the built-in 1-click installation feature.
Ultraseedbox List of Supported Apps
Airsonic
Bazarr
CouchPotato
Deluge
Emby
Filebot
Jackett
Jellyfin
JDownloader2
LazyLibrarian
Lidarr
Medusa
Mylar
Nextcloud
NZBGet
NZBHydra2
Ombi
Plex Media Server
Pydio
Radarr
Resilio Sync
Requestrr
rTorrent & ruTorrent
SABnzbd
Sonarr
Sickchill
Syncthing
Tautulli
The Lounge
Transmission
ZNC
FileBrowser
Midnight Commander
SeedSync
Prowlarr
When it comes to torrent clients, many of the popular ones like Transmission, Deluge, and ruTorrent are available. Setting up torrenting with this seedbox is seamless and quick.
Many other kinds of apps that pretty much cover the spectrum of tools one would ever need for a seedbox are available here as well. VPNs, while they heavily damper network speeds, are also available for the more careful seedbox users.
Ultraseedbox also supports file synchronization apps like the popular SeedSync and Reselio sync apps.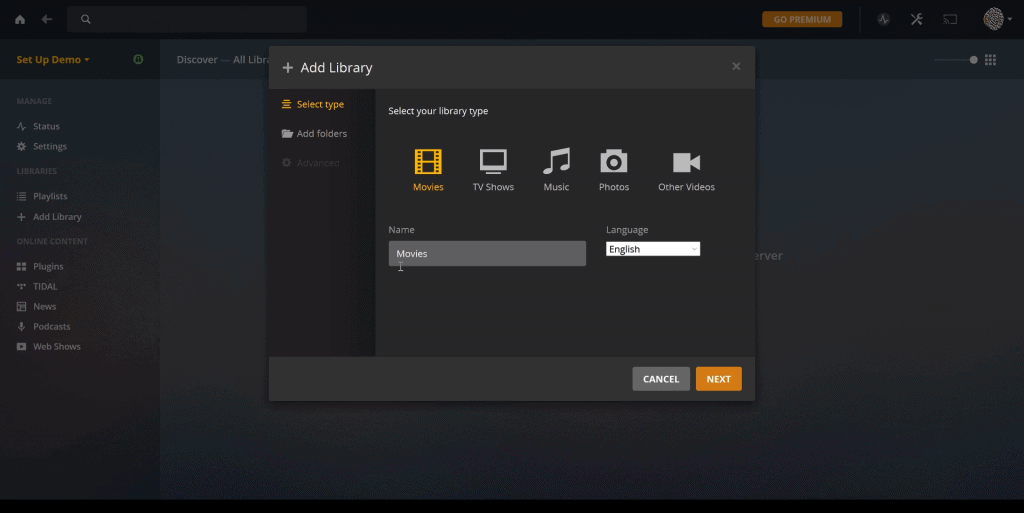 Fans of Plex will be happy to know that Plex Requests is easily supported here and can be integrated into Plex media servers. Not only can this seedbox work well with the Plex media system but it can also work well with Kodi, Emby, and Jellyfin.
Additionally, many automation, management, and other requests-based apps can be used very easily along with this seedbox, like Radarr, Sonarr, PyLoad, Jackett, Ombi, Filebot, and several more.
At the end of the day, the app support for Ultraseedbox is very impressive. The vast majority of them can be installed within seconds and all of them function very well within Ultraseedbox's own ecosystem.
Installation and Management
Like any of the best seedboxes, Ultraseedbox offers a one-click installation process that is very easy to accomplish. Installing and downloading Ultraseedbox is as simple as installing a web browser. There is also absolutely no setup fee with Ultraseedbox.
Additionally, the official Ultraseedbox website features a useful status page that is updated on a daily basis. It lets you know whether any performance-related incidents have happened to the servers hosting the seedboxes.
If you are ever having any unexpected troubles while using the seedbox, you can just check the status page to see if anything is occurring on a system-wide level. From there you can then contact the staff for any help you may need, which leads us into our next section.
Support and Wiki
When it comes to accessing customer support from Ultraseedbox, you may have to wait a little while. Their customer support works on a ticket-based system that may have you waiting in a digital line for some time. Their customer service is very professional otherwise and it's certain that they can and will answer any question you have for them.
Ultraseedbox also has a Discord community where you can gain helpful insights from fellow users as well as moderators.
What is even better though is that Ultraseedbox offers an incredibly comprehensive and in-depth wiki. In fact, the Ultraseedbox wiki might very well be the most useful and in-depth seedbox wiki page I have ever seen.
The wiki itself is separated into multiple categories such as Guides and Tutorials, an introductory Getting Started page, pages on Slot Access, and others on Applications. You'll easily be able to find articles that deal with specific subject matter including HTTP Proxies, VPNs, Filebot, their own policies, Remote Desktop, and more.
Their wiki pages are also updated regularly, so you'll always know that the information you are getting is trustworthy.
If their wiki is a little too advanced for you, you can also check out their FAQ page that deals with more basic questions about torrent trackers and data logs.
Payment Methods
Like any reliable seedbox that cares about the privacy of its customers, Ultraseedbox offers multiple payment methods. According to their website, they accept Paypal payments, debit and credit card payments through Stripe, and popular cryptocurrencies like Bitcoin and Ethereum. Whether you want to buy your seedbox server through conventional means or more anonymous ones via cryptocurrency, they have you covered.
While they don't offer any free trials, they do have a 7-day money-back guarantee that applies to all available payment methods.
The Verdict
Ultraseedbox almost ended up being a masterpiece of a seedbox service but unfortunately, it was held back by a couple of flaws. The VPN support from a network standpoint is very poor. It can also have some surprisingly long login times when loading your seedbox server with your torrents, especially when using the standard HDD plans.
Despite these issues, Ultraseedbox has a lot going for it. The massive number of packages makes this seedbox one of the most versatile ones out there, and the inclusion of NVMe storages really helps set this seedbox apart from most others. The app support is great, the customer support is very good albeit pretty slow, it works great with Plex, and the wiki is remarkable.
This is a seedbox I would recommend. Whether you are on a budget looking for your first seedbox or you have some cash to burn and want some really advanced options, there is so much on offer here – and usually for very reasonable prices – that nearly anyone can find something to love here. It is not perfect, but it is definitely still very good.