Good network speeds
Unlimited bandwidth
Massive number of apps and plugins
Public trackers always allowed
Quick to install and load
Google Drive and Amazon Cloud Integration
No Root Access for most plans
Slightly more expensive than average

Bytesized-Hosting.com: An In-Depth Review for 2023
Today we're going to take a close look at one of the most successful seedboxes on the online market today: Bytesized-Hosting.com. This seedbox constantly gets good user reviews and recommendations on a variety of forums. There is no doubt it has a great reputation but let's take an in-depth look at everything this seedbox has to offer to really see if it is as top-notch as some people say.
If you're curious to know if Bytesized-Hosting has good app support, network speed, Plex and GPU transcode, and more, get ready to dive into the definitive review now.
---
Packages, Pricing and Server Specifications
Bytesized-Hosting offers several different server plans that are divided up into three different categories:
AppBox Plans, Dedicated AppBoxes, and Capsule Plans. Here are the specs and prices:
Appbox PLANS
AppBox Plans come with a unique one-click install system that lets you work well with up to 44 applications, including the most loved apps like Plex, Ombi, and Jellyfin. AppBox packages feature 6 metered plans and 4 unmetered plans as follows:
Warning
Governments and ISPs across the world monitor their users' online activities. If found streaming copyright content, you could get into serious legal trouble. Currently, your IP is visible to everyone. I strongly recommend you to get the
best VPN for torrenting
and hide your identity so that your entertainment doesn't take a bad turn.
AppBox Stream + 3 (Limited Availability)
3 TB Storage
6 TB Bandwidth
10 Gbit connection
4 Plex Transcodes
€16 per month
AppBox Stream + 6 (Limited Availability)
6 TB Storage
10 TB Bandwidth
10 Gbit connection
5 Plex Transcodes
€32 per month
AppBox Stream + 9 (Limited Availability)
9 TB Storage
15 TB Bandwidth
10 Gbit connection
6 Plex Transcodes
€48 per month
AppBox Stream + 12 (Limited Availability)
12 TB Storage
20 TB Bandwidth
10 Gbit connection
7 Plex Transcodes
€64 per month
AppBox Stream + 15 (Limited Availability)
15 TB Storage
25 TB Bandwidth
10 Gbit connection
8 Plex Transcodes
€80 per month
AppBox Stream + 18 (Limited Availability)
18 TB Storage
30 TB Bandwidth
10 Gbit connection
10 Plex Transcodes
€96 per month
AppBox +Unmetered
AppBox Unmetered +Stream 1
1 TB storage
Unlimited bandwidth
10 Gbit connection
3 Plex Transcodes
€14 per month
AppBox Unmetered +Stream 1.5
1.5 TB storage
Unlimited bandwidth
10 Gbit connection
4 Plex Transcodes
€21 per month
AppBox Unmetered +Stream 2
2 TB storage
Unlimited bandwidth
10 Gbit connection
5 Plex Transcodes
€28 per month
AppBox Unmetered +Stream 3
3 TB storage
Unlimited bandwidth
10 Gbit connection
6 Plex Transcodes
€42 per month
Dedicated appbox plans
The Dedicated Plans feature everything the normal AppBox Plans have, including all the supported apps. Yet unlike the latter, dedicated plans do not share servers. Instead, you will get your own full server, get more storage and Plex Transcodes, and experience a lot more unique and bonus features.
Aside from the best Bytesize experience, one of the highlights of the dedicated plans is its multi-user feature. This allows you to share your AppBox with your friends and family. It definitely gives the best bang for your buck, doesn't it?
Dedicated Appbox R240 +Archive (Raid-10)
16 TB storage
80 TB upload
Unlimited download
1 Gbit connection
10 Plex Transcodes
44 Apps one click away
€129 per month
Dedicated Appbox R240 +Archive (Raid-5)
24 TB storage
80 TB upload
Unlimited download
1 Gbit connection
10 Plex Transcodes
44 Apps one click away
€129 per month
Dedicated Appbox R240 +Archive (Raid-0)
32 TB storage
80 TB upload
Unlimited download
1 Gbit connection
10 Plex Transcodes
44 Apps one click away
€129 per month
Capsule Plan
Early 2021, the Bytesized-Hosting team came up with a new seedbox platform, Aethernal, which is currently in Beta. This is probably the newest kind of seedbox plan that gives you more freedom and flexibility to choose and alter your software and hardware preferences on a daily basis. The best thing? It only costs €3, making it the cheapest plan you can get from Bytesized-Hosting.
Capsule Plan
Choose your storage
Choose your CPU's
Choose your bandwidth
40 Gbit connection
Open sourced app installation software
44 Apps one click away
With Root Access
€3 per month
Overall, Bytesized-Hosting offers some pretty good flexibility when it comes to both pricing and server specs. These plans pretty much cover the full scope from people on a budget to people who really want to invest some serious cash.
To go into a little more detail, all Bytesized-Hosting plans support Plex. All plans also support popular apps like Couchpotato, Deluge, Jellyfin, Radarr, Sonarr, and rTorrent.
Bytesized-Hosting AppBox plans also offer a pretty neat and convenient option to extend your storage for a very fair price of $0.06 per 10 GB/month.
When it comes to their actual network performance, Bytesized-Hosting is very impressive. Their servers are located in Luxembourg, France, and the Netherlands. The Dedicated server plans are incredibly fast and will allow you to easily download and upload hundreds of megabytes per second.
The shared plans, while they are not as powerful, are still very viable compared to the shared plans of other seedboxes. You'll be able to manage dozens of megabytes per second, which is still pretty good network performance.
These prices are not the cheapest but they are not the most expensive prices either. Considering the reliable network performance and very beefy bandwidth and storage specs, Bytesized-Hosting has great packages that can easily appeal to the vast majority of seedbox enthusiasts.
Features
Let's start off with the bad news: there are a few key features that are missing from Bytesized-Hosting. This seedbox only offers support for Root Access in Capsule Plans.
Luckily, this seedbox has other key features that help make up for this unfortunate lack. Bytesized-Hosting does allow Public Trackers to be used with all of their plans, which is a big plus.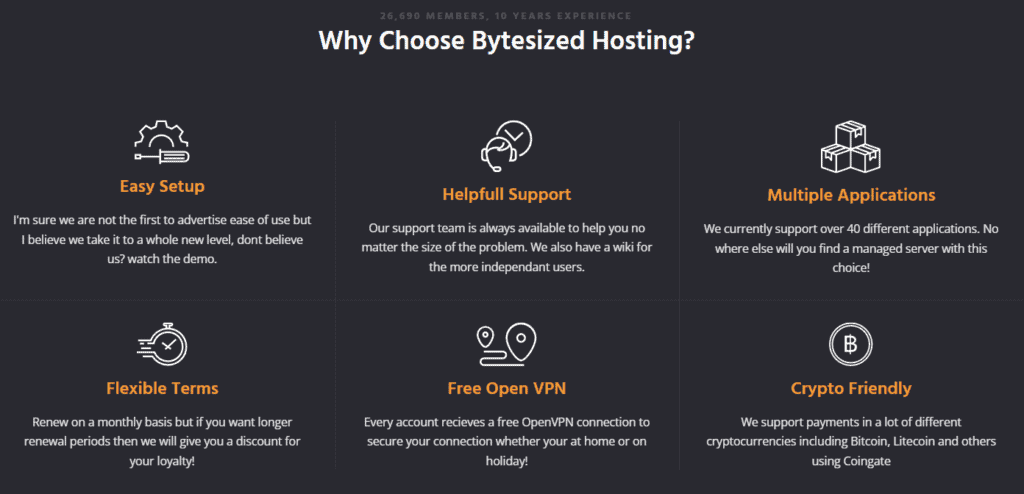 Bytesized-Hosting is also compatible with OpenVPN for those who want to download and upload their torrents with even more security and privacy.
Additionally, those who are users of either Amazon Cloud or Google Drive will be happy to hear that both services are easily integrated. Syncing or transferring files you may have on either one of these platforms can be accomplished seamlessly with this seedbox.
App Support
I have absolutely no doubt in my mind that Bytesized-Hosting has the greatest app support of any single seedbox. Rapidseedbox comes very close, but Bytesized-Hosting manages to win due to having a couple more extra supported apps in its catalog.

Bytesized-Hosting is compatible with a whopping 44 apps. This makes it the single best choice for someone who considers installing as many apps as possible their top priority. Since applications are the number one way to upgrade a seedbox and improve its performance and functionality, Bytesized-Hosting is really looking like an excellent contender.
As one would expect, this seedbox has support for the more popular seedbox apps out there. This includes great extensions like Sonarr and Radarr, which are arguably some of the best apps one could ever add to a seedbox as they are designed to seek out movies and TV shows fully automated. Similar apps like Medusa and CouchPotato are also supported.
As for torrent clients, Bytesized-Hosting works phenomenally with rTorrent and Deluge. These are the top two torrent clients chosen by seedbox users, so it is a great thing to see all of them supported here.
Several file syncing apps are also supported here such as Btsync and Syncthing. The popular newsgroup downloader SABnzbd can also be used.
Other great apps supported include NextCloud, VNC, Pyload, FileBot, FlexGet, Sickbeard, Sickrage, NZBget, Mylar, ZNC, Lidarr, Lounge, Ombi, Radarr, Subsonic, and quite frankly too many more to count. At the end of the day, the app support for Bytesized-Hosting is simply awesome.
This seedbox is undoubtedly the best seedbox available when it comes to apps, especially because there is also the option for a 1-click installation for them. You'll be able to add literally dozens of apps into Bytesized-Hosting, and it will only take a couple of minutes.
Installation and Management
Since Bytesized-Hosting has instant installation available for its apps, it would be logical to assume that it also has this feature for the seedbox itself. Fortunately, this is the case. Installing Bytesized-Hosting is very quick and extremely beginner-friendly, even for the dedicated server plans.
The user interface of Bytesized-Hosting allows for very easy monitoring of all your incoming data. Monitoring hardware details like RAM usage and whatnot is also very simple and easily locatable in an easily accessible tab.
While it may be lacking more advanced features like Root Access, Bytesized-hosting is very easy to work with and would be a fantastic choice even for those who have never used a seedbox before in their lives.
Support and Wiki
Although they do not have 24/7 customer service, Bytesized has one of the best customer services and support available. They get back to you promptly with their online ticketing system. You can also email them at any time at [email protected].
All of these methods are very viable and you can expect their staff to get back to you pretty shortly.
The support staff can also be contacted through their official Discord group and they are even known to respond to Twitter messages and DMs.
More importantly, the quality of the answers they give is exceptionally high. You can ask them any question you have about the seedbox and you are guaranteed an insightful answer that will solve any issue you are dealing with.

Not only is their support staff excellent but they also have one of the best seedbox wikis available. This page is extremely dense and covers so many different subjects in astonishing detail. Dozens of apps have their own dedicated guides related to installation and configuration like Radarr, VNC, rTorrent, Plex, and many more.
As well as general inquiries and an FAQ section, there is also a very useful How-To section that will cover everything from streaming VLC with SFTP, to migrating data from your personal storage.
Their wiki even has information about command-line tips and tricks, which will prove to be an invaluable resource for the more tech-savvy seedbox enthusiasts.
There's no question that the customer support and wiki of Bytesized-Hosting easily gets an A+.
Payment Methods
Just as Bytesized-Hosting offers a lot of apps, a lot of packages and a lot of useful info in their wiki, this dedication to variety continues even into the payment methods.
Traditional payment methods like MasterCard, Visa cards, Maestro, Discover Card, and American Express all work here perfectly. They also have support for popular cryptocurrencies like Bitcoin, Litecoin, and even Dogecoin.
Various online banking transfer methods are also applicable here, including iDeal, sofort, and Bancontact.
The only thing I have to negatively say here is that Bytesized-Hosting only offers a 2-day money-back guarantee. It would look better if they offered at least a 7-day money-back guarantee, but 48 hours is still enough time to test drive a seedbox so it isn't the worst thing that could happen.
The Verdict
Bytesized-Hosting.com is without a doubt one of the better seedboxes on the market today. Even those who may be skeptical about its performance and quality will likely change their tune once they get their hands on this excellent service.
The only bad thing I can truly say about this seedbox is that some of the packages are slightly too expensive compared to competitor prices, and the lack of Root Access for most plans will be seen as unfortunate to some customers.
Despite these minor problems, there is so much quality packed into this one seedbox that it is almost impossible not to recommend. The network speeds are great, the storage and bandwidth options are too enticing, the app support is so vast it will make your head spin, and the customer support is simply through the roof.
Bytesized-Hosting is a fantastic seedbox that will satisfy nearly every need you could have. It may not be perfect, but it comes very, very close.