Unlimited bandwidth
Plex server support
Great app support
Quick setup and installation
Great dashboard
Limited server choice
Plans are a little too pricey
Lack of GPU transcoding
Average speeds
A little low on storage space

Seedboxes.cc: An In-Depth Review for 2023
If you are looking for a seedbox, then you've probably already at least heard about Seedboxes.cc. It is one of the more popular seedbox choices out there and it certainly has a fanbase, but is it really the best seedbox available?
More importantly, is it the right seedbox for you? Does it have the network performance, extra features, customer support, and app support that makes it worth the price? All of these questions and more will be answered soon. This in-depth review will tell you all you need to know about Seedboxes.cc.
---
Packages, Pricing and Server Specifications
Let's begin with a look at the packages and plans. Seedboxes.cc offers a total of five different plans. Each one has unlimited bandwidth which is a nice touch, but let's put these plans under a finer lens and see all that they have to offer.
Here are all five Seedboxes.cc plans listed from least expensive to most expensive.
The Bat Box:
1000 GB Disk space
20 Gbps Server Downlink and Uplink
2 simultaneous VPN connections
5 vCPU cores
$17.73 per month ($15.95 if billed annually)
The Gremlin Box:
1500 GB disk space
20 Gbps server downlink and uplink
2 simultaneous VPN connections
6 vCPU cores
$23.66 per month ($21.29 if billed annually)
The Vampire Box:
2000 GB disk space
20 Gbps server downlink and uplink
3 simultaneous VPN connections
8 vCPU cores with 4K
$35.52 per month ($31.97 if billed annually)
The Zombie Box:
3000 GB disk space
20 Gbps server downlink and uplink
4 simultaneous VPN connections
12 vCPU cores with 4K
$47.38 per month ($42.64 if billed annually)
The Dragon Box:
6000 GB disk space
20 Gbps server downlink and uplink
5 simultaneous VPN connections
24 vCPU cores
$94.83 per month ($85.34 if billed annually)
Overall, there is some decent stuff to pick apart here. The server stats and unlimited bandwidth are very appealing if they are accurate to what actually happens in practice. The massive amount of CPU cores in the pricier plans is also very appealing to those who really enjoy downloading multiple torrents at the same time while having multiple simultaneous streams going on in Plex.
Warning
Governments and ISPs across the world monitor their users' online activities. If found streaming copyright content, you could get into serious legal trouble. Currently, your IP is visible to everyone. I strongly recommend you to get the
best VPN for torrenting
and hide your identity so that your entertainment doesn't take a bad turn.
I have to say, however, that the disk space could be a little larger for the prices being asked, as filling up a couple of terabytes can happen faster than you might expect, so having the largest option be only 6000 GB and be priced so high seems rather unreasonable.
It's also a bit of a shame that Seedboxes.cc doesn't offer any other kinds of packages like SSD or NVMe based storage. Seeing that kind of variety in packages really helps a seedbox in attracting more kinds of customers.
It should also be mentioned that Seedboxes.cc has its own complimentary VPN service that comes FREE with every seedbox plan of theirs.
While this seems like a very generous touch, this VPN only has servers in seven countries, which puts a limit on how much you can get out of it. It also takes longer to connect compared to other VPNs. You will probably be better off using another VPN service instead.
When it comes to the network's performance in practice, it doesn't really hold up as well as expected. You can expect to get around 80-90 Mbps, which is still solid, but trying to actually reach 20 Gbps is basically impossible, even without a VPN connection.
Features
One cool feature that Seedboxes.cc offers is its unique management application called Seedbucket.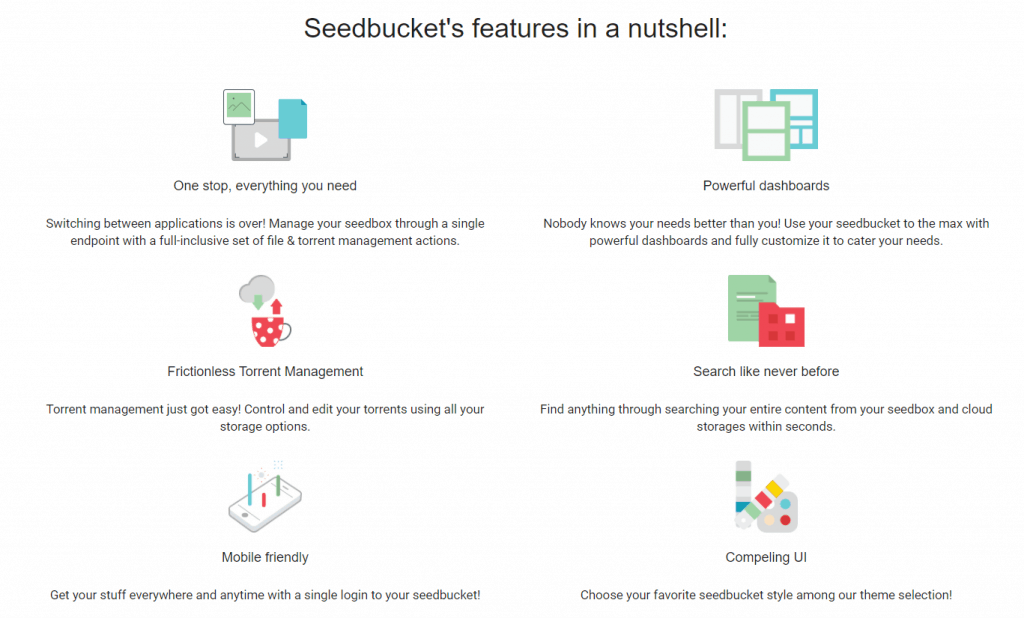 Seedbucket is essentially an all-in-one seedbox manager that comes with an integrated torrent client web UI and a file manager. It supports both Deluge and Torrent and it can also function as a cloud storage manager as well as allowing you to easily transfer files from your seedbox to a cloud device. It has a really snazzy UI and is easy to manage.
Speaking of which, Seedboxes.cc does have Google Drive integration, which will be a big plus for people looking to transfer or sync files that are across multiple different platforms.
Seedboxes.cc also offers Plex Media Server support and allows for public trackers on all plans.
Unfortunately, this seedbox is lacking Root Access and GPU transcode, which could be a turn-off for some people. The good news though is you can set up SSH via Putty, a terminal emulator app.
App Support
Seedboxes.cc really starts to kick into high gear once we take a look at its app support. In total, Seedboxes.cc supports 28 different apps, which is very impressive.
It must be mentioned that while the app selection here is indeed large, the Emby media app is unfortunately not among this number.
As mentioned earlier, Deluge and rTorrent are compatible, which is good news as they are two of the most dependable torrent clients. Transmission is not supported but that shouldn't be too big of a deal.
Many other useful apps related to file syncing and file acquisition are also here, such as nzbGet, Syncthing, OwnCloud, Mylar, Jackett, ZNC, Resilio Sync, CouchPotato, Sickbeard, Madsonic, Subsonic, SickRage, Sonarr, and more.
And of course, Plex is indeed supported. Combining your Plex media server along with Seedboxes.cc and Google Drive integration is a fantastic combo that must be taken advantage of by anyone who decides to pick up this seedbox.
The short of it is that Seedboxes.cc has some really great app support that definitely mops the floor with most other seedboxes out there. The lack of Emby may be a downside but it makes up for that with great Plex support.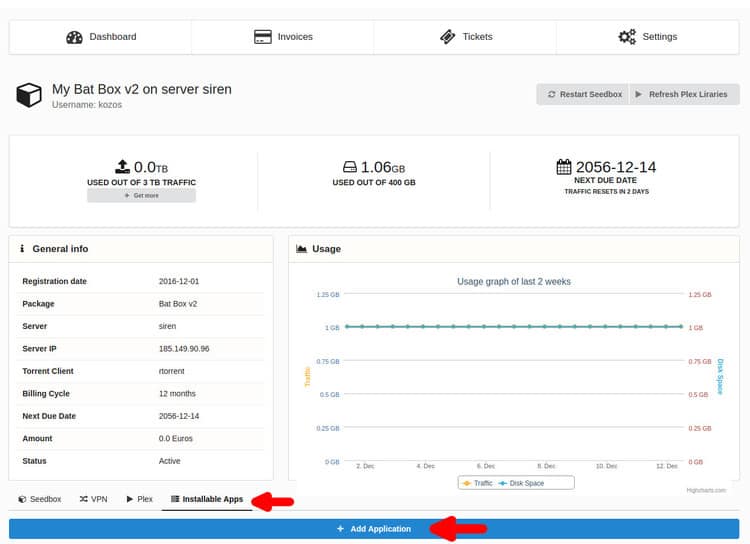 It is also worth mentioning that Seedboxes.cc does have a 1-click app installation feature that will install any of its supported apps in a matter of moments. This is especially helpful considering the fact that Seedboxes.cc is compatible with so many apps.
Installation and Management
Installing Seedboxes.cc is very easy and takes no time whatsoever thanks to its instant installation feature. Anyone can install this seedbox quickly even if they have never used a seedbox before.
When it comes to managing the seedbox itself, this too is pretty straightforward. Seedboxes.cc and its patented Seedbuckets application have a really good dashboard that makes it easy to access settings and monitor various stats and specs related to the network performance, disk space, and RAM and CPU usage.
I would definitely consider this to be a beginner-friendly seedbox but it does have some extra features that can be toyed with for the more tech-savvy users.
Support and Wiki
I have had mixed feelings when it comes to the customer support of Seedboxes.cc. For one thing, they do not have 24/7 customer service available. This is not the worst thing in the world as this is also the case for several other seedboxes.
The problem is that the quality and speed of the customer service hasn't really been up to par. The staff takes longer than I would like to respond to inquiries via their ticket-based email system and the answers they give out can be useful, but they can also be the kind of typical troubleshooting advice that you can find online.
Luckily, they help make up for this with their robust tutorial wiki.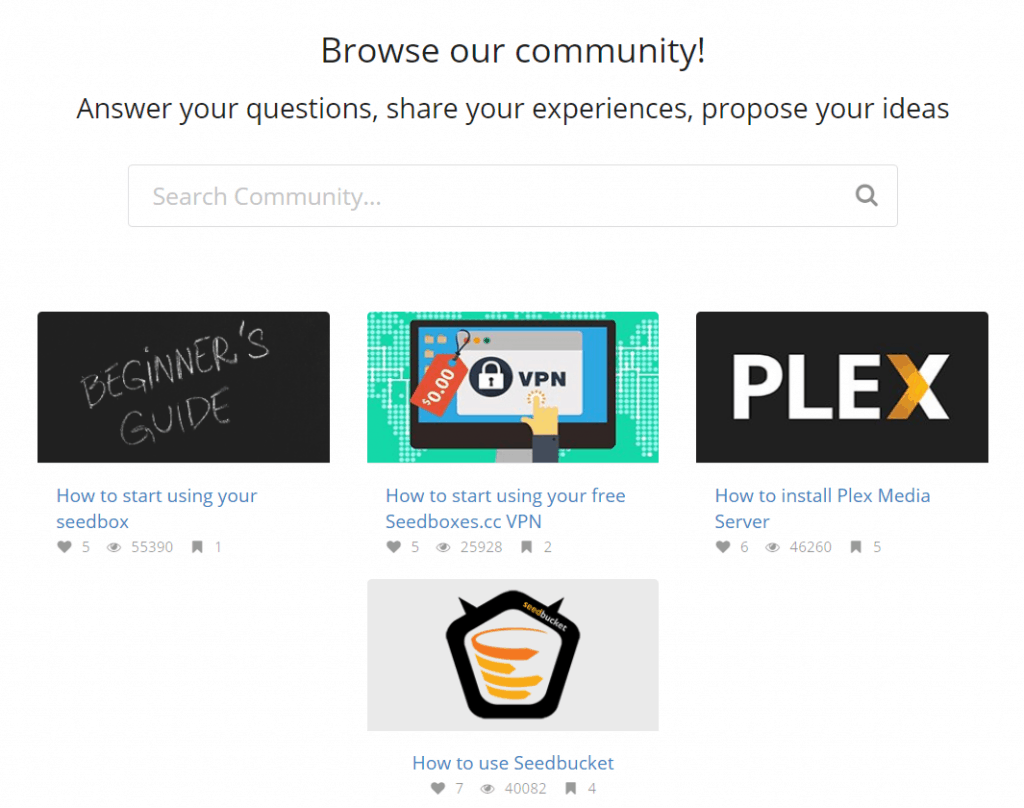 The official community page of Seedboxes.cc has a total of 77 articles at the time of this review's writing. There are many different articles that explain a variety of things such as how to connect Google Drive with your Plex Server, how to connect Sonarr or Radarr with sabnzbd or nzbGet, the basics of using Seedbucket or their official VPN service, and many more.
Seedboxes.cc has a great wiki and I highly recommend you browse through it before sending them an email because the wait might be too long and the answer you are looking for may already be inside this great wiki.
They also have a few online communities that can be found on popular websites like Twitter and Tumblr.
Payment Methods
Seedboxes.cc accepts a good variety of payment methods. Not only do they accept traditional debit and credit cards but you can use a Paypal account to sign up as well.
For the more private users out there, you can rest easy knowing that Seedboxes.cc also accepts various cryptocurrencies. Bitcoin and various altcoins like Litecoin, Ethereum, Dash, Bitcoin Cash, and Monero are all accepted. This is a larger number of accepted cryptocurrencies and altcoins compared to other seedboxes, so seeing this unexpected level of support is pretty impressive.
The Verdict
If you are looking for a simple seedbox that gets the job done then Seedboxes.cc will definitely be a solid choice. Some of the plans are reasonably priced, there are good network specs and the app support is extremely good.
While disk storage may be on the low side of things, you still can make the most of this seedbox by installing as many apps as possible and by taking advantage of integrating Plex server along with GoogleDrive. If that's your cup of tea then this seedbox may be a great option.
I have to say that I was disappointed by not only the subpar customer service but the network speeds that didn't come close to what was promised though. The VPN is a nice touch but it has limited servers and it definitely doesn't compare to a more reputable service like NordVPN or OpenVPN.
Ultimately, Seedboxes.cc is a decent choice that is more than adequate but it is by no means the best seedbox out there. While it is near the top when it comes to application support and it may arguably have one of the best seedbox dashboards, it is nowhere near the best when it comes to network performance, disk space, package variety, or pricing.
It also doesn't have that little extra something that really distinguishes it from other services like SSD options or a performance tuner.