Seedboxes are known for having great app compatibility that increases the convenience factor of the service by simplifying and automating downloads. Anyone who uses seedboxes on a regular basis is recommended to use as many quality-of-life apps as possible, especially movie collection managers. But which movie collection manager app is the best one?
Today we're going to place the two most popular seedbox movie collection manager apps head-to-head to find out which is superior: Couchpotato vs Radarr. They are two of the most commonly downloaded and installed seedbox apps, but you only need to have one. It's time to find out which one is today's winner.
Couchpotato vs Radarr: Similarities
Because both Couchpotato and Radarr are the same kinds of seedbox apps, it's expected for them to have a lot of things in common.
The primary function of movie management collection apps like Couchpotato or Radarr is to automate the movie collection as they are being downloaded from sources such as Usenet or torrents. They are then managed in a way that is specified or customized by the user.
Normally when downloading movies, they just appear in your usual designated downloads folder. If you download a lot of movies, they will all just appear in chronological order of the time they finished downloading. This can be a nuisance if you download a lot of files.
Additionally, you have to manually hunt for the right torrents or Usenet links to download the movies you want.
Apps like Couchpotato or Radarr fix these issues. You'll be able to have your movies automatically organized however you see fit. You can have them categorized by genre, length, year of release, alphabetical order, resolution quality, and more. More importantly, these apps allow you to define wanted movies (or even use lists from the internet) which will then be automatically downloaded in a preferred quality profile once available on your favorite torrent or Usenet tracker.
Both apps are compatible with other popular seedbox apps that specialize in downloading, such as utorrent, NZBGet and SABnzbd. These apps are popular torrent and NZB file downloaders and anyone who uses them regularly for media downloads should add Couchpotato or Radarr to their app collection as well.
Warning
Governments and ISPs across the world monitor their users' online activities. If found streaming copyright content, you could get into serious legal trouble. Currently, your IP is visible to everyone. I strongly recommend you to get the
best VPN for torrenting
and hide your identity so that your entertainment doesn't take a bad turn.
Both Couchpotato and Radarr will run on the main operating software: Windows, Mac, and Linux.
Couchpotato vs Radarr: Differences
While Couchpotato and Radarr have a lot in common, they also have minor differences. These differences are mainly about more fundamental aspects of their design.
A big difference between the two is their UI. While I like both user interfaces and I find them both easy to use, Radarr's UI is easier on the eyes. It looks sleeker, more professional, and has more color to it, which makes distinguishing different menu icons much easier.
How Couchpotato and Radarr Were Developed
Couchpotato was originally written using Python which is why it can be used with all the major operating software. While Couchpotato has not seen a major update in several years, it still gets occasional minor tweaks from its original developers.
Years after its release, Couchpotato is still a popular choice for people looking for a seedbox PVR or movie management application.
As for Radarr, it was designed by the same people that made Sonarr, another popular seedbox application that specializes in automated downloads specifically for TV series. They both use very similar code and people familiar with using one will likely be able to transition to using the other very easily.
Couchpotato Overview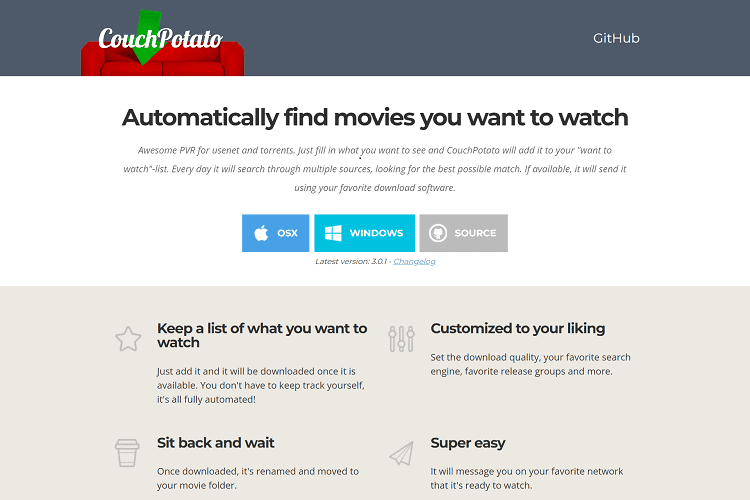 Couchpotato is often said to be the original movie collection manager and still has a big fan base.
Pros:
Free to use
Easy to install
Great compatibility with NZBGet and SABnzbd
Good search function
Handy scheduling features
Cons:
Is no longer being updated
Limited torrent client compatibility
Rare but minor glitches with search function
Couchpotato is completely free to use. It is also fairly easy to install and I had zero issues getting it to work on my seedbox setup.
At the end of the day, Couchpotato is supposed to add convenience to your Usenet or Torrent downloads, and that's pretty much what it does. The interface is easy to use and was clearly designed with a sort of "no-nonsense" philosophy behind it.
I do think it is a shame that Couchpotato hasn't been significantly updated since 2015. This makes it feel a little outdated, though not completely obsolete. There are some torrent clients and seedbox apps I would like to see made compatible with this PVR. I don't see it as a fatal flaw, but I know some people will.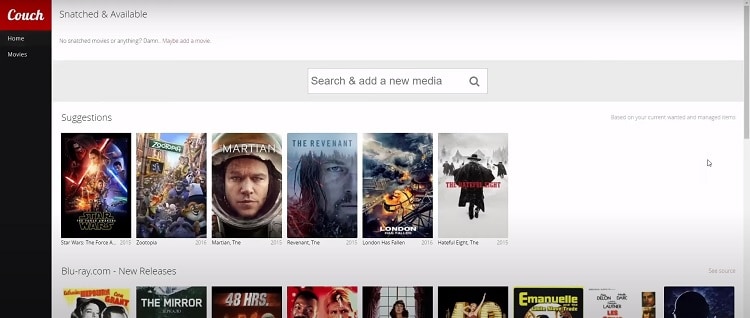 Like any great app of this kind, Couchpotato has a scheduling feature that can be set for when to search for specific files. It's a useful way to have control over how much downloading you want the app to do.
One of my favorite things about Couchpotato is how visible it makes its movie list. Everything from the title to the year and even the icon poster are boldened and just pop off the screen right at you. Searching for content is also a cinch.
Radarr Overview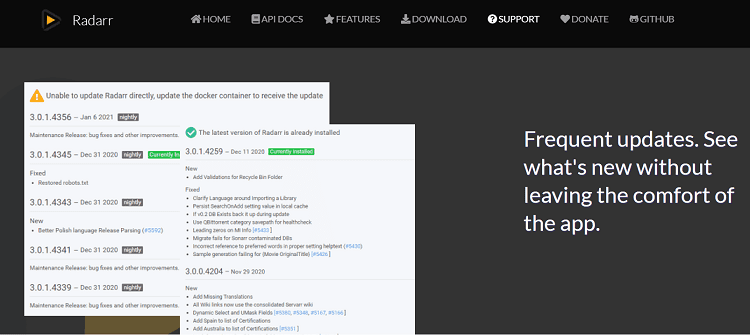 What I love about Radarr is that it is very simple to use. I did find the installation process to be harder than Couchpotato's but it was something I was able to manage with my moderate technological know-how.
Pros:
Excellent UI
Large compatibility with apps
Free to use
Cons:
Limitations with naming movie folders
Installation is a little annoying
Radarr is technically free to use but you can donate to the developers to support their work.
The difficulty with installing Radarr is that it provides lots of options to customize your setup and how media files are managed. Luckily, many seedbox providers will automate some of these steps.
While using Radarr may begin with a rocky start, the app itself is truly great. Everyone praises the colorful UI, and I count myself among that number.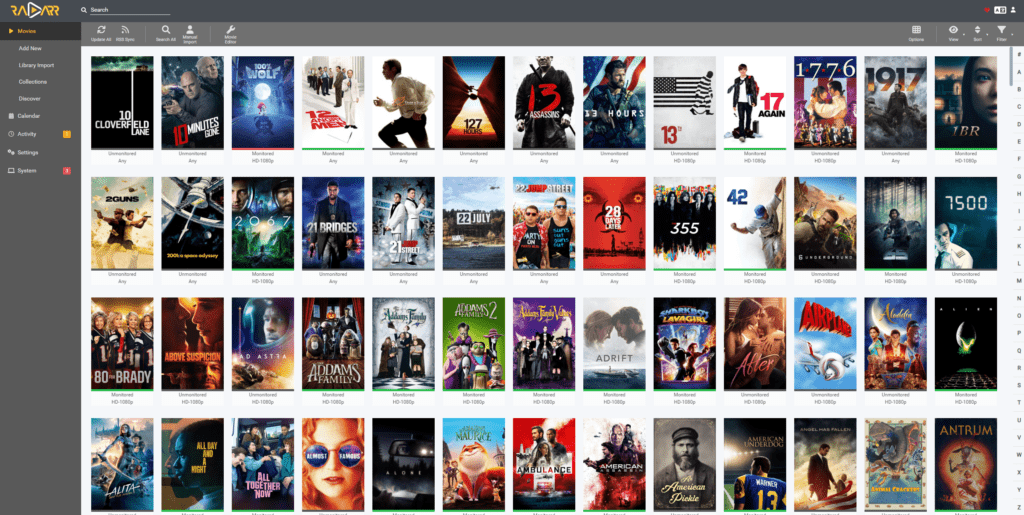 Automation with Radarr is just great. You can have several RSS feeds be monitored and connected to your Usenet client in order for them to be retrieved whenever you want. Setting up your torrent downloads is just as easy.
Possibly the best thing about Radarr is the sheer number of features and customization options it has. It may overwhelm some people at first, but once you get used to what Radarr has to offer, you'll wonder why you ever bothered settling for anything else.
Couchpotato vs Radarr: Key Features
Couchpotato
Radarr
• Great scheduling features
• Great UI
• Easy to install
• Written in Python
• Download renaming
• Superior UI
• Manual or automatic search
• Support major platforms (Windows, Linux, macOS, Raspberry Pi, etc.)
• Built-in calendar
• Recognizes Special Editions, Director's Cut, etc.
• Imports metadata like trailers and subtitles
• Advanced profile customization
Couchpotato vs Radarr Key Features
The most important features to keep in mind about Couchpotato is that it has great scheduling and an overall no-nonsense design – it is easier to use and easier to install, making it a more tempting choice for people new to these kinds of apps.
The key features of Radarr in my opinion are the superior user interface, active development and customization options. These things alone will make Radarr an extremely enticing choice for many people already familiar with these popular apps.
Couchpotato vs Radarr: Final Verdict
My final decision has to go to Radarr. While I enjoyed both apps a lot, Radarr is more than just a more future-proof movie collection manager app. The ongoing feature releases is a massive plus over Couchpotato, and it has such a unique UI that it's almost irresistible.
Couchpotato definitely has things going for it, and I do wish that other PVR or movie management apps could learn a thing or two about its simplicity. But at the end of the day, Radarr takes the cake for me. Its ability to be so precise about recognition, automation, and management makes it hard for me to go back to anything else.