Great for maintaining high ratios
Excellent performance and customer service
High bandwidth limits
Plex Server and GPU transcoding available
Public trackers allowed
Easy installation
Performance tuner
No 24/7 customer support
Plans can be pricey
No OpenVPN support
No Root Access
No GPU Transcoding

Swizzin.net: An In-Depth Seedbox Review for 2023
A lot of seedbox reviews out there focus more on the most well-known seedbox services and servers, but today we're going to be taking a look at what might be an underdog of seedboxes: Swizzin.net.
This seedbox used to offer NVMe storage-based plans, making it a promising choice to those who are looking for advanced seedbox features. But for some reason, Swizzin has hit the end of the line for NVMe plans last December 2020.
Its Shared HDD Plans, however, are going strong and have some good-looking network specs. In fact, they increased the HDD storage of these plans for the same price as before. But in order to make sure it's really worth buying, we're going to take an in-depth look at its features, UI, customer support, and more.
---
Packages, Pricing and Server Specifications
Right off the bat, things are looking good for Swizzin.net. The HDD packages have six plans, and all of their servers are located in the Netherlands.
HDD Plans:
Alpha
2 TB storage
8 TB upload traffic
Unlimited download traffic
$15.95 per month
Beta
3 TB storage
12 TB upload traffic
Unlimited download traffic
$20 per month
Gamma
4 TB storage
20 TB upload traffic
Unlimited download traffic
$25 per month
Delta
6 TB storage
30 TB upload traffic
Unlimited download traffic
$38 per month
Epsilon
8 TB storage
40 TB upload traffic
Unlimited download traffic
$50 per month
Zeta
12 TB storage
55 TB upload traffic
Unlimited download traffic
$70 per month
Swizzin.net may be a bit more pricey compared to the other popular seedboxes out there, but the cost fairly compensates for their large HDD capacity. As a matter of fact, Swizzin.net offered a little more HDD storage space for the same prices.
Warning
Governments and ISPs across the world monitor their users' online activities. If found streaming copyright content, you could get into serious legal trouble. Currently, your IP is visible to everyone. I strongly recommend you to get the
best VPN for torrenting
and hide your identity so that your entertainment doesn't take a bad turn.
The upload and download network specs are very enticing, not to mention the storage capacities of each HDD plan.
As for network performance, Swizzin.net performs extremely well. While your mileage may vary, this seedbox is very reliable when it comes to top speeds and network uptime. One would expect the performance to be worse since these are all shared seedbox slots, but in fact, the stability and performance are really impressive.
This might have to do with the fact that the HDD plans only allow up to 4 users per disk. Whatever the reason is, Swizzin.net is undeniably fast and dependable when it comes to downloading and uploading data.
Features
Swizzin.net also offers some neat features that are more than welcome when it comes to adding to the seedbox experience.

One of the most unique features they offer is their Swizzin Tuning Technology. This tuner acts like an automatic calibrator that will optimize your settings to improve your downloads and uploads as much as possible based on the current circumstances. Most seedboxes do not have tuners despite the fact that they can be extremely helpful, so it is great to see this implemented by Swizzin.net.
On the downside, fans of Plex or Emby will be disappointed to hear that Swizzin.net does not allow GPU transcoding, which is a really great feature for its ability to accelerate Plex or Emby transcodes.
Luckily though, Swizzin.net allows for public torrent trackers in all of their plans, which is great news for anyone looking to get the most out of their seeding, uploading, and improved ratios.
Additionally, Swizzin.net has Google Drive integration, which will be of big help in transferring and syncing files you may have across multiple platforms. This is extremely useful considering that many of Swizzin.net's cheaper plans are a little lacking when it comes to HDD storage space.
Unfortunately, Swizzin.net is lacking a few solid features. It does not offer Root Access in any of its plans. This is by no means a deal-breaker but may come off as a disappointment to those who were looking forward to tinkering with the server.
To compensate for this lack, all plans come with SSH access. This means you can still install your own applications and services or set up your own cron jobs even without root access.
Moving onto the user interface and dashboard, Swizzin.net really hits a slam dunk here. The dashboard has a nice dark theme that clearly separates the menus from the stats.
While the default view is nice and somewhat minimalistic, the options give you the freedom to add on many other screens, such as a bandwidth graph, data related to disk space, RAM usage, and more. It's a very great UI that also has the benefit of being a web-based browser so you can load it up on just about any web browser you already own.
App Support
The app support for Swizzin.net is pretty solid at the end of the day. It is by no means the best, but it is probably above average as the apps that are compatible here are all great additions when it comes to upgrading a seedbox's convenience and performance.
Swizzin.net does indeed have a 1-click app installation feature, which will allow you to install all of these apps in no time.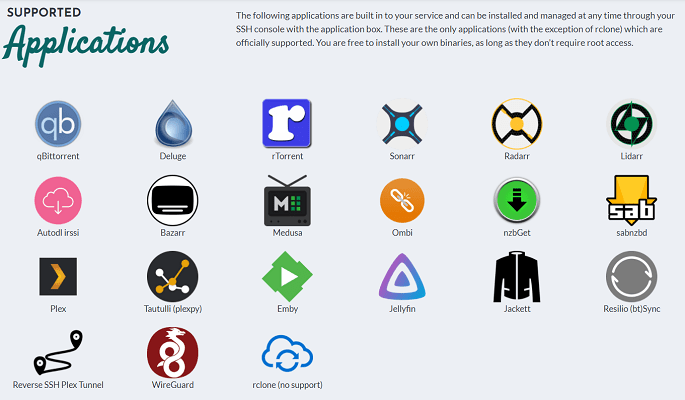 Swizzin.net has a total of 21 applications. It actually has all of them built into the service itself. You can then choose to install them at any time.
When it comes to torrent clients, Swizzin.net is compatible with rTorrent and Deluge. There is no Transmission support, but being able to use two of the three most popular torrent clients for seedboxes is still pretty good.
As for media players, Swizzin.net has support for Plex, Emby, and Jellyfin. This means that fans of Plex media servers and the like will be able to use their favorite media players on this seedbox with no problems whatsoever.
Other popular apps that have support here include many auto-downloading apps designed to automatically track new content for you. Radarr, Sonarr, Lidarr, Bazarr and Medusa can all be used here.
Additionally, SABnzbd and nzbGet are also compatible for those who were hoping to get some Usenet action on here along with their regular torrenting. A few other apps include Jackett, Ombi, and Reverse SSH Plex Tunnel.
The bad news is that Swizzin.net does not support OpenVPN or rClone, which is probably the most popular open-source file syncing app that seedbox users own. To make up for it, Swizzin.net does have support for the WireGuard VPN, but this may be a bummer for those who have already invested in a different VPN service.
Overall, Swizzin.net offers some pretty solid app support. While a couple of key players are absent, all of the supported apps are well-vetted and are guaranteed to make your seedbox downloading and uploading much more efficient.
Installation and Management
Just as Swizzin.net has a 1-click instant installation feature for its apps, it offers the same feature for the seedbox itself. This seedbox is very easy to install and can be started up by anyone, even people who have never used a seedbox before. It's a very quick and beginner-friendly process.
As for managing the seedbox itself, that is also extremely easy here. Thanks to the great dashboard and the built-in performance tuner, keeping track of your system specs and your Torrent or Usenet downloads is very simple. Add on the fact that you can access Swizzin.net from a web browser and this makes managing your seedbox even easier.
Support and Wiki
Swizzin.net offers some pretty good customer service. While the staff is extremely helpful and reliable, they, unfortunately, do not offer 24/7 service. The only way to get in contact with them is to use their ticket system via email or access their official Discord channel.
Luckily, the staff does not take too long to respond via the ticket emails and you can expect to get a response back in under 24 hours. Feel free to try them out on Discord if you have a more urgent inquiry.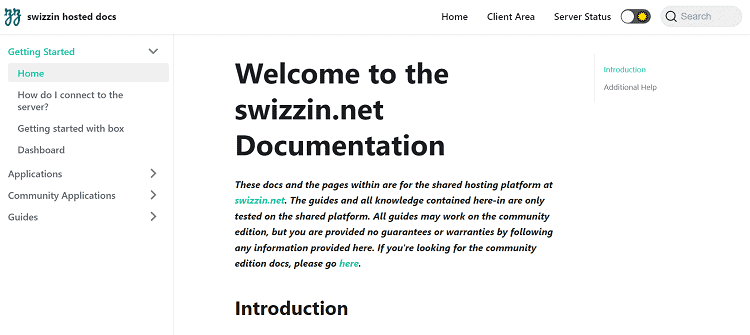 As for their wiki page, it is very impressive thanks to a robust list of different sections. The four categories are Getting Started, Applications, Community Applications, and Guides.
Each one has in-depth information pertaining to dozens of different subjects and issues like how to access server statistics on your dashboard, various commands related to all supported apps, and they even go as far as to teach you how to install and configure unofficially supported apps like JDownloader and Flexget.
While the customer service is pretty good, their wiki/FAQ doc page is very helpful and should fill the gaps. I highly recommend you take a look at it should you ever decide to purchase this seedbox for yourself.
Payment Methods
Swizzin.net accepts major credit cards like Visa and MasterCard but they also started accepting various cryptocurrencies not too long ago.
If you use Bitcoin, Bitcoin Cash, Ethereum, Litecoin, or USD Coin then you'll be happy to know that Swizzin.net will happily accept any one of these crypto coins.
Swizzin.net also offers a 7-day money-back guarantee trial period. You are allowed to request a refund past this grace period, but you will have to send them an email explaining the reason for the refund and they may not accept it.
Keep in mind that the 7 day grace period does not apply to cryptocurrencies as those payments are final.
The Verdict
The more skeptical seedbox enthusiasts out there may not have been expecting much from Swizzin.net, but I hope this review will help in proving them wrong. While they may not be as big as other services out there, Swizzin.net is truly a great seedbox that has a lot to offer.

While some plans are a bit expensive, the storage capacities are a little light and there is no OpenVPN support, the network performance is truly excellent for a shared seedbox. It also has really good app support, good plan versatility, and enough extra features that could easily make this become your main seedbox. Swizzin.net is not a seedbox to sleep on nor to be underestimated.