Usenet has been around for a while and is still going strong. After a couple of decades, the quality and quantity of Usenet newsgroups have only increased, which means that today it's as great a time as ever to get into Usenet and take advantage of all it has to offer. There's only one question now: which Usenet client should you use?
In order to help you solve this simple issue, we're going to take a look at the best Usenet clients available today. This list will help you get a good sense of the highest quality clients out there.
6 Best Usenet Clients to Download NZB Files
Simply pick one from the following list and you'll be able to download all the NZB files you'll ever want.
---
1. Easynews
While it is also known as a very effective NZB search engine, Easynews is well known for being one of the most popular Usenet clients around.
Easynews is often praised for having an excellent user-interface, being easy to use, and for having great system compatibility with Windows, Linux, and Mac.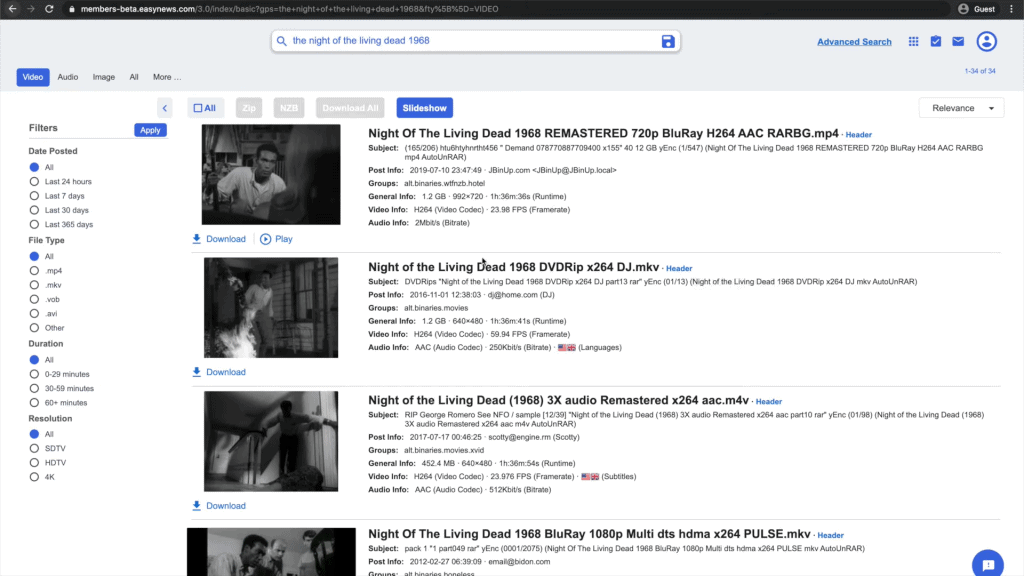 Easynews is also an excellent choice for mobile users. And as its name implies, it is quite easy to use thanks to its very intuitive structure and well-organized menus. This Usenet client is also web-based so it can be used with any popular web browser like Google Chrome, Opera, or Firefox.
2. SABnzbd
SABnzbd is one of the most popular and well-praised Usenet clients around and it's easy to see why. Not only is it totally free and open source but it is also very mobile-friendly.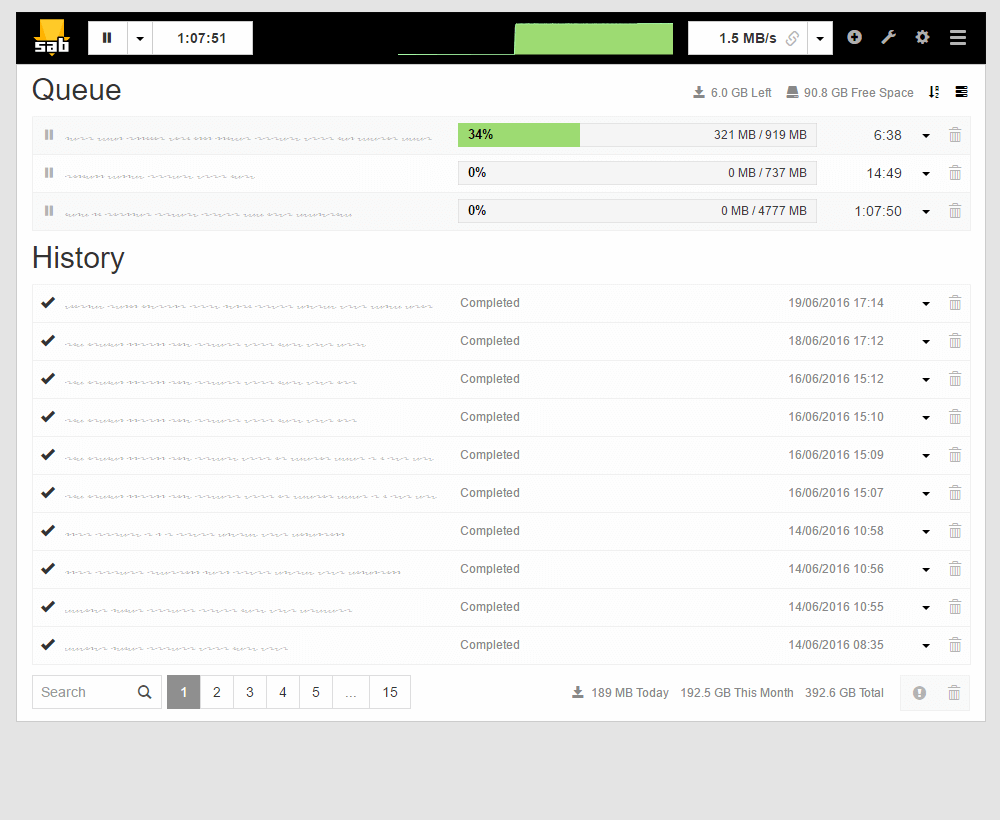 One of the best aspects of SABnbzd is that it is completely free and easy to install. You won't have to deal with monthly or annual payments, unlike other Usenet clients. SABnbzd is also compatible with many different languages.
Warning
Governments and ISPs across the world monitor their users' online activities. If found streaming copyright content, you could get into serious legal trouble. Currently, your IP is visible to everyone. I strongly recommend you to get the
best VPN for torrenting
and hide your identity so that your entertainment doesn't take a bad turn.
SABnbzd also has good compatibility with some of the most useful and popular Usenet apps out there like Sonarr and Radarr. The user-interface is also customizable. It is a very low-maintenance program that even old and weaker computers should be able to run it with few issues.
3. NZBGet
If you enjoy configuring many different NZB indexes with your client then NZBGet may very well be the best Usenet client for your purposes.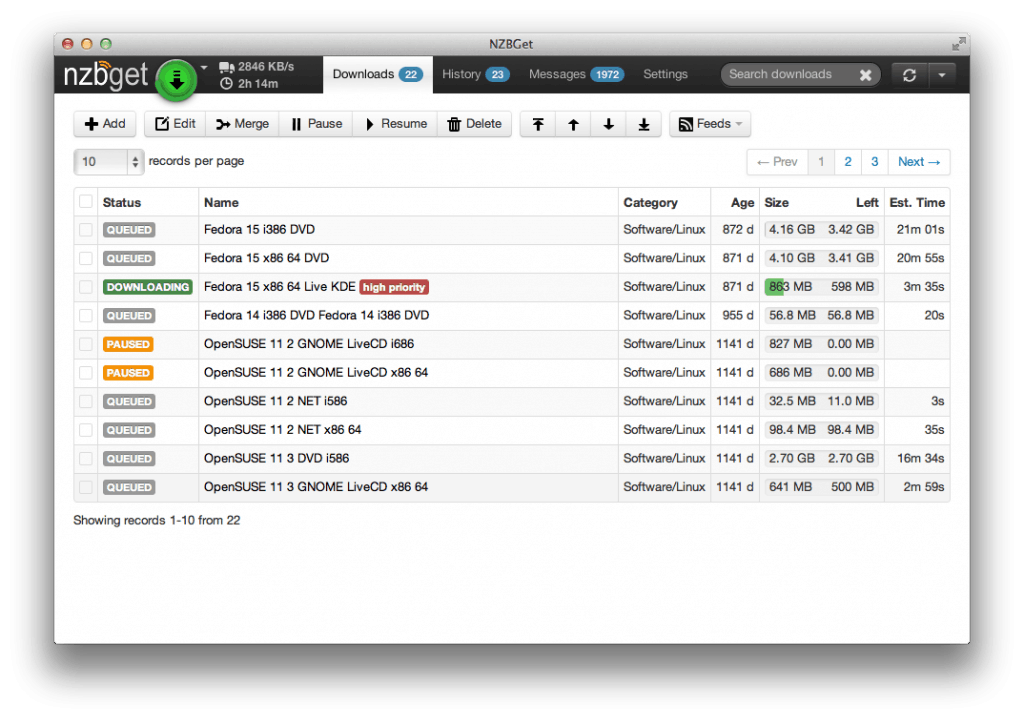 While NZBGet isn't the most popular Usenet client, it certainly is one of the best ones thanks to its excellent speeds, great customization features, and the fact that it is open source. It also works perfectly with all major operating systems such as Windows, Mac and Linux.
In addition, it is very well optimized for low-end systems so you will still be able to attain great speeds even on an old system.
4. Newshosting
Newshosting is easily one of the best Usenet clients out there thanks to some truly superb software features and good quality search functions.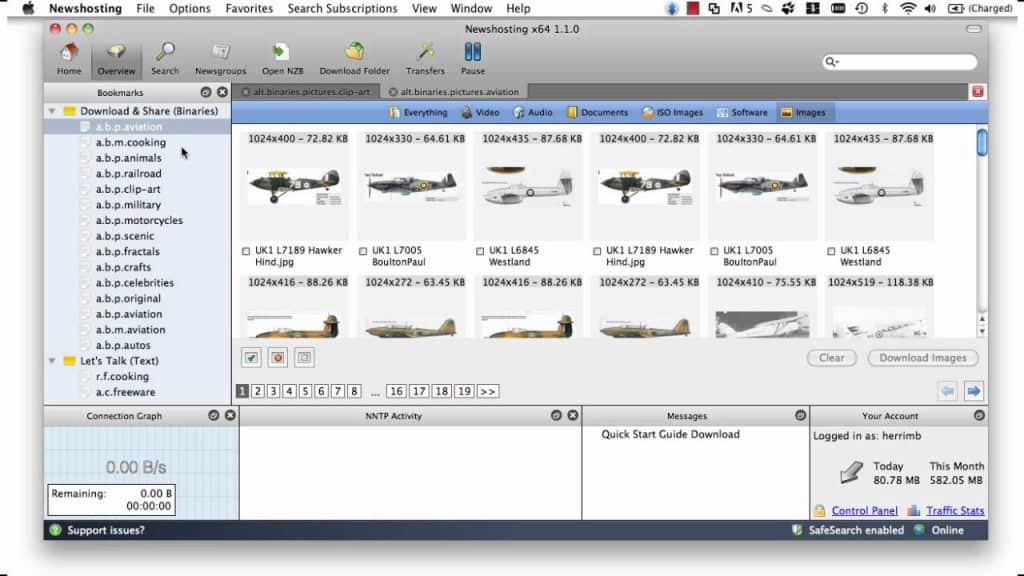 While it does come with a monthly fee it is well worth it considering how much downloading activity you will be able to squeeze out of this Usenet client.
5. Newsleecher
Next on our list of the best Usenet clients is Newsleecher, which has great NZB support and really fast speeds that will always be reliable.
This Usenet client has been around for a very long time and is still going strong. In fact, Newsleeder was the first-ever Usenet client to support NZB files, which makes it rather important. It also sports many functions that allow you to import files or create them directly from articles.
Newsleecher is a little bit on the expensive side with its monthly fee but considering the unlimited Usenet access it gives you, it definitely is worth the entry fee. Keep in mind that Newsleecher also offers a free 14-day trial that is highly recommended.
6. Newsbin Pro
Newsbin Pro is another long running Usenet client that has been around for quite some time. Newsbin Pro has been in development for over two decades, which means that it has definitely stood the test of time.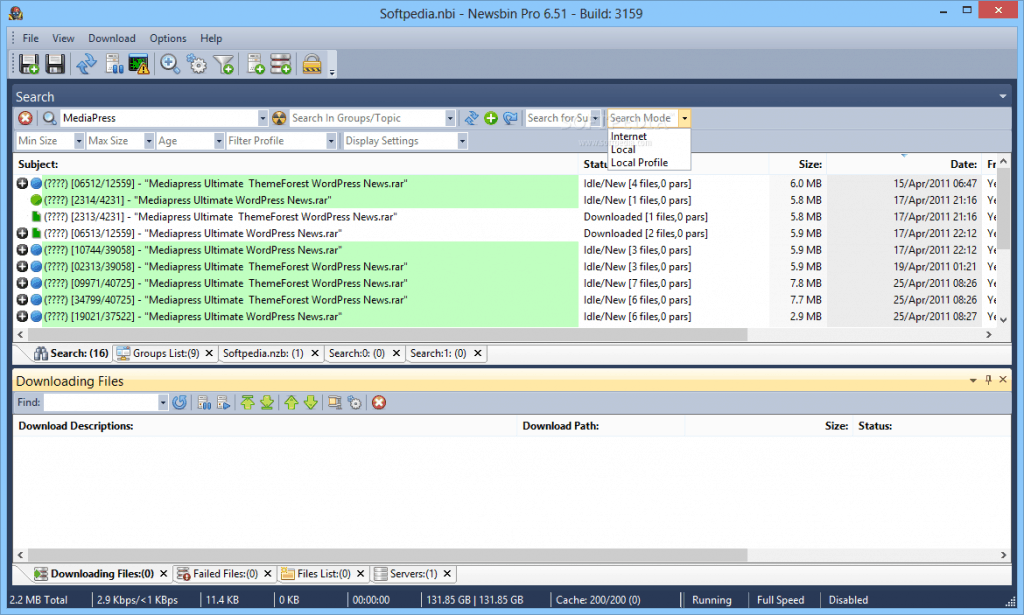 One of the best things about Newsbin Pro is that it is very beginner-friendly thanks to its very straightforward user-interface. This Usenet client also has phenomenal performance that allows you to set up multiple servers simultaneously. It also has some built-in anti-malware features that will protect your computer and save you the time of having to deal with junk data.
Newsbin Pro also gets some extra credit for offering relatively versatile packages. While there is a limited free trial available, you can opt for the regular package that costs $30 for one year or you can go for the other option that doesn't come with a search function for only $20 per year. The latter option is a great idea if you're already using another NZB search engine.
---
Buyer's Guide for Usenet Clients
Now that we've gone over the best Usenet clients available, let's quickly go over what kind of features or aspects you should be paying attention to when deciding on a Usenet client to get for yourself.
OS Compatibility
The first thing you need to look at is OS compatibility. There's no point in getting a Usenet client that only works with Windows if you are using Mac.
Price
While some Usenet clients cost a monthly or yearly fee, others are completely free of charge. While many great clients cost nothing, the ones that have fees are likely to have some extra features that you may consider enticing enough to pay for.
App Integration
The more apps that a Usenet client can be used with, the better. There are so many good apps out there that are related to file syncing, cloud storage, or automation that it would be crazy to not take advantage of these amazing tools at any opportunity that arises.
User Interface & Features
Lastly, you will want to look at how beginner-friendly the Usenet client is. If this is your first time using a Usenet client, you surely want to select the one that is as straightforward as possible in every respect, from the user interface to the actual learning curve of its features.
On the other hand, if you are a veteran Usenet user and have many years of experience with it, you might want a Usenet client that has as many functions and configurable settings as possible to get the most of what you're looking for.
What else do you need to download from Usenet?
To access and download files from Usenet, including binary downloads, you will need two more things in addition to your Usenet client:
Usetnet Service
Usenet Indexer
A Usenet Service or Newsgroup Service Provider allows you to access Usenet content by connecting to its servers. When choosing your Usenet provider, you need to look out for a few things:
Retention is how far back in time you can go to access content posted on Usenet. The longer the retention provided, the bigger the chance you have to access content that may not be posted regularly. Nowadays, you can get services with 4920 days of retention!
Monthly transfer limits may limit how much you are allowed to download from your provider (some are unlimited). Another popular account type is a block account where your purchase a certain amount of data you are allowed to transfer before you have to buy an additional block.
Additional considerations for Usenet servers are the number of simultaneous connections you are allowed to establish to the server (the more the better!), and whether you can connect securely via SSL to encrypt traffic. I personally use UsenetServer.
Lastly, you will need a Usenet Indexer. There are many different Indexers that will act like a search engine and allow you to browse the content of Newgroups. A popular one is DogNZB
Final Thoughts
As we bite a huge chunk of digital files more than we ever did before, media file providers like Usenet Clients are becoming a need rather than a want. Thankfully, some of them put food on the table free of charge. Although it wouldn't hurt much shelling out a little amount if it means getting the best functionalities there is. Either way, the most important thing is to make sure you're dealing with the right Usenet Client that suits your needs.