While torrenting has undoubtedly made the lives of people much easier, it has its downsides. The biggest downside is accidentally downloading malware or other harmful files onto your computer. Or even worse, having a bunch of lawyers tracking your torrenting habits. Luckily, there are ways to protect yourself from these threats and the second-best way by far is to integrate a blocklist into your torrent client.
(Psst, the safest way to download torrent data is using a secure VPN protection.)
A torrent blocklist is a continuously maintained collection of IP addresses that are known to be snooping leechers or have malware or other unwanted and harmful files. This list of addresses is then automatically blocked when downloading content through your torrent client, e.g. Transmission. They are easy to install and configure and are a highly recommended tool for anyone who regularly uses torrents.
Intrigued enough to hear more? Then let's take a look at the best blocklists you can get to protect your device while torrenting.
8 Best Blocklists for Torrenting
---
1. PeerBlock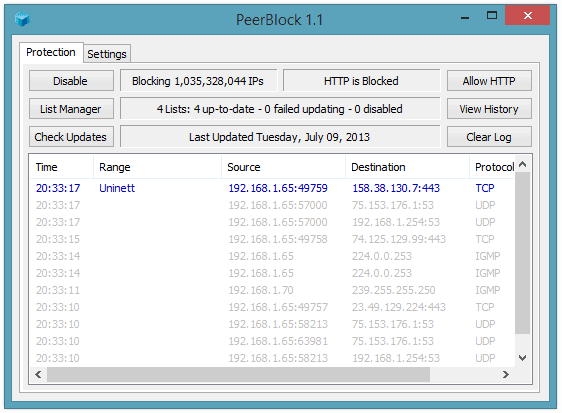 One of the most popular blocklists for torrenting is PeerBlock. Not only is it free but it is open source as well. It is well known for its privacy-based firewall features and is considered a very reliable application that can block various IP addresses while using P2P connections.
2. Peer Guardian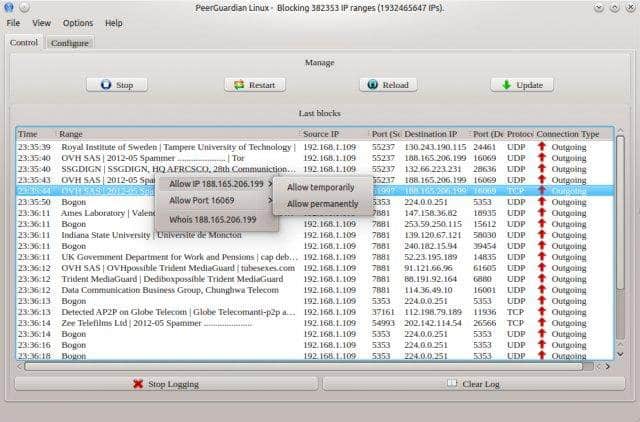 Similar to PeerBlock (its official successor), Peer Guardian. It is very similar to PeerBlock but has less OS compatibility and is considered a slightly buggier and slower version of the newer PeerBlock.
While Peer Guardian has officially been discontinued, it can still be used for those who are curious to try it out. Meanwhile, PeerBlock is still being updated to this day and should be considered a safer choice.
3. I-Blocklist
One of the greatest resources you can find regarding torrent blocklists is the famous I-Blocklist. This is a very robust compendium of many IP addresses that will be an invaluable database to anyone who wants to add as many addresses to block as possible.
Warning
Governments and ISPs across the world monitor their users' online activities. If found streaming copyright content, you could get into serious legal trouble. Currently, your IP is visible to everyone. I strongly recommend you to get the
best VPN for torrenting
and hide your identity so that your entertainment doesn't take a bad turn.
The lists provided by I-Blocklist are compatible with many different torrent clients and software including PeerBlock, Vuze, Transmission, uTorrent and pfBlocker.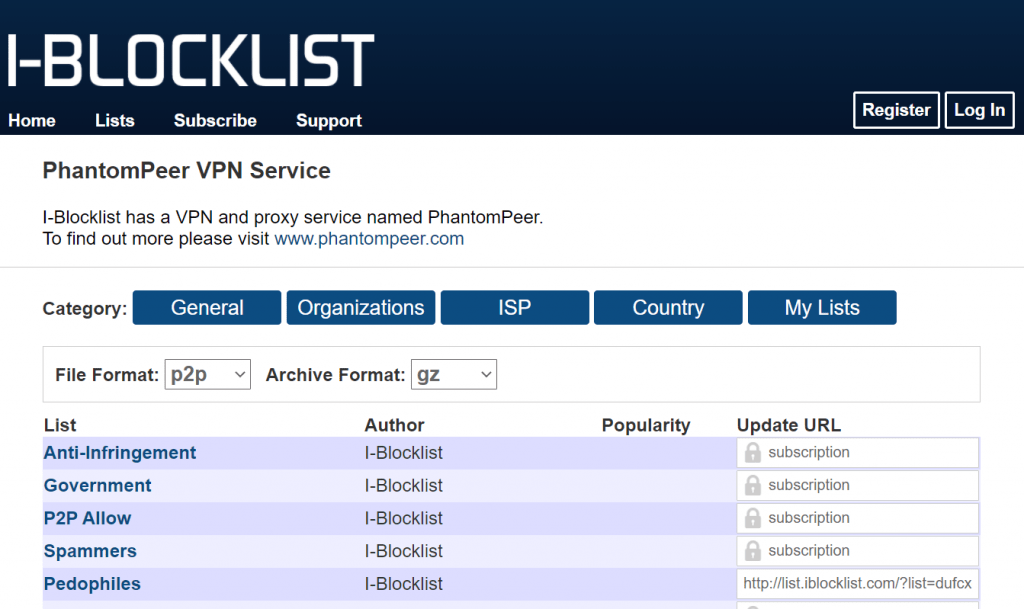 When it comes to the lists themselves, they are organized into multiple categories and can be downloaded in a P2P format. You can download all of them or just the select few that you are most interested in.
The categories available include ads and trackers, anti-infringement, proxies, spyware, bad peers, piracy-related, spam, and many more. This is arguably the single best blocklist for torrenting you can find online.
4. The Bitsurge Blocklist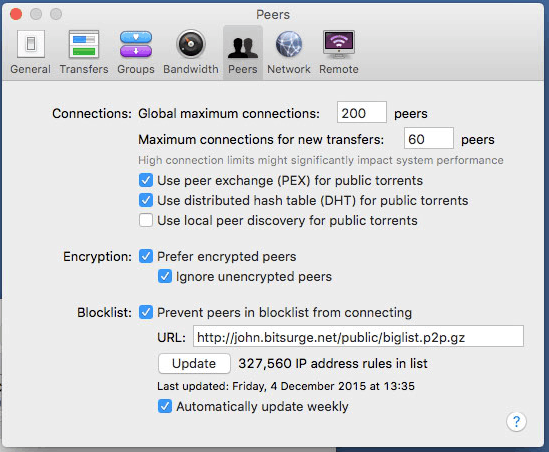 Another great list of various blocklists for torrenting is the well-known Bitsurge blocklist that specializes in blocking IP addresses for the Transmission torrent client specifically. Luckily, it can be used with many other torrent clients as well.
5. The FireBog Big Blocklist Collection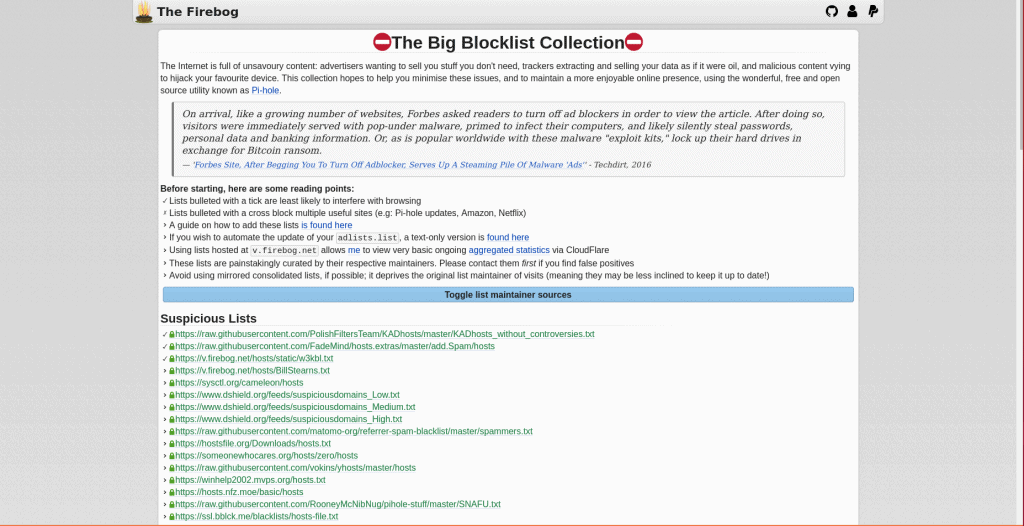 Discoverable over at firebog.net, this is an incredible repository of blocklists that provides many different lists that are categorized as malicious, tracking and telemetry, advertising, or just plainly suspicious.
6. Developer Dan's Blocklist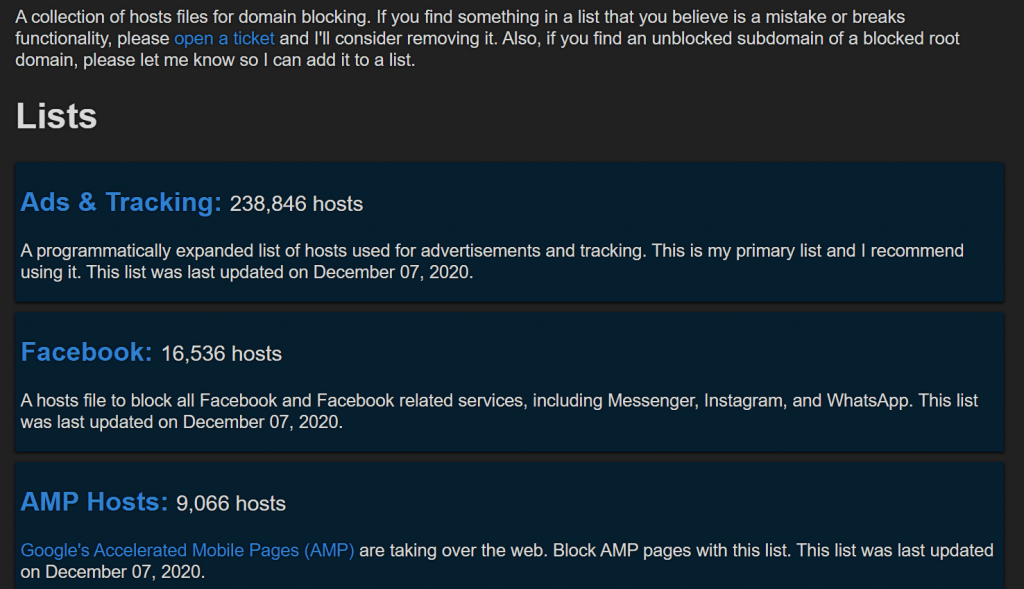 This is yet another huge, fantastic collection of IPs that is regularly updated. It is fantastic for blocking malware, ads, tracking software, junk, and even AMPs which are known as Google's Accelerated Mobile Pages. This makes the Developer Dan's blocklist a great choice for people who use torrents on their portable devices or smartphones.
Developer Dan's blocklist for torrenting also works great with blocking unwanted files across various social media services such as Facebook, Messenger, Instagram and WhatsApp.
7. The oisd Blocklists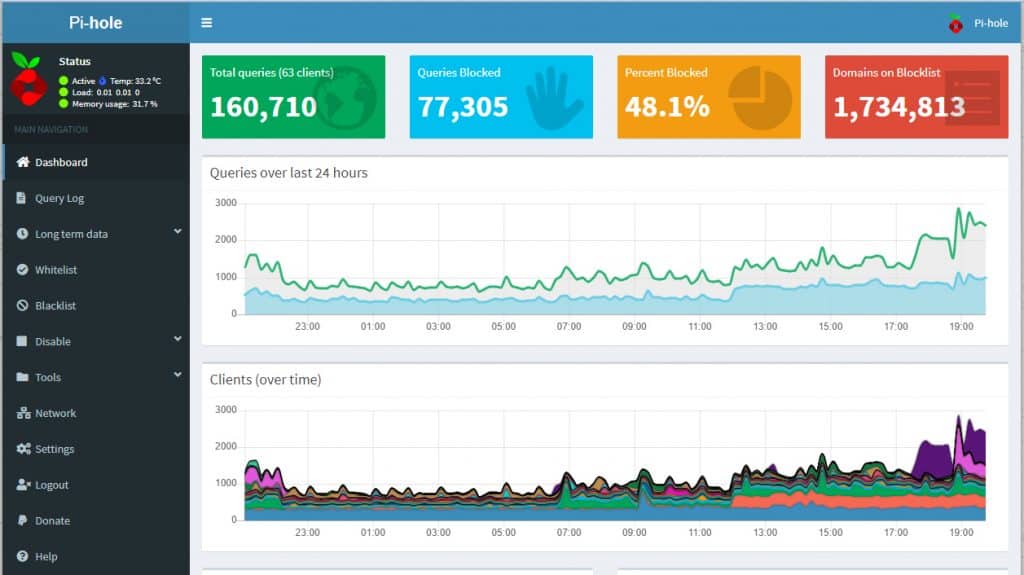 These are some fairly popular blocklists that have circulated well across Reddit and other similar sites. The oisd or dbl.oisd.nl blocklists are intended to block desktop ads, mobile ads, phishing, malware, spyware and other similar dangerous software that can be accidentally acquired through torrenting. They are some of the best blocklists for torrenting available.
8. The Spamhaus Project
While they have many different functions and tools, the Spamhouse project is probably best known for their reliable blocklists that have multiple safe filters.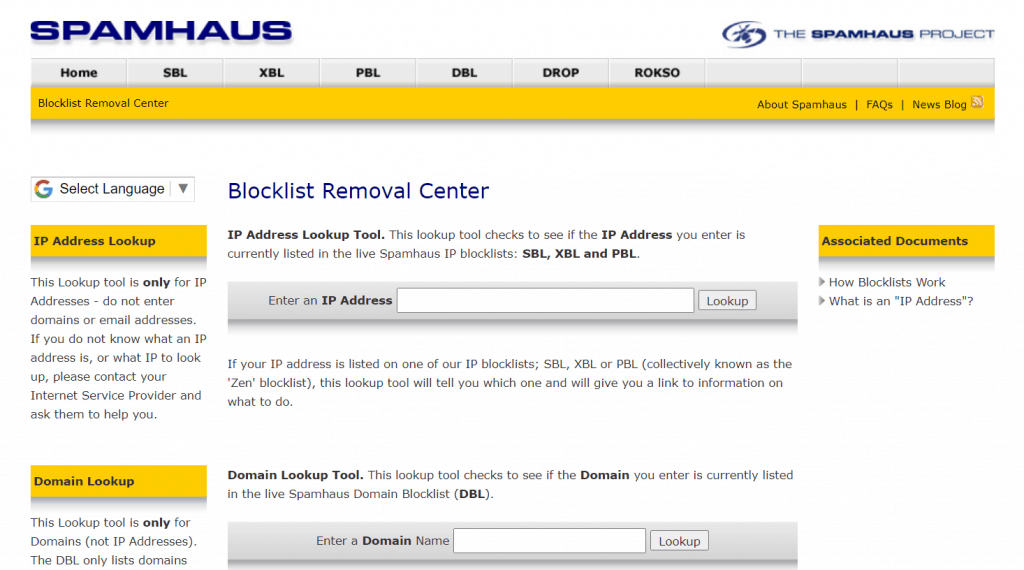 Their blocklists come in five main categories: the (1) SBL or Spamhause blocklist that focuses on electronic mail, the (2) XBL or Spamhaus Exploits blocklist that focuses on IP addresses associated with hacks or hijacks and spam engines, the (3) PBL or Policy Block List that focuses on SMTP email, the (4) DBL or Domain Block List that focuses on domains with bad reputations, and finally, the (5) ZEN blocklist that is a combination of the SBL, XBL and PBL blocklists.
Tips on Using Blocklists for Torrenting
While this article has listed several of the best blocklists for torrenting, you may assume that downloading as many blocklists as possible is the best strategy for removing as many ads and unwanted malware as possible. Unfortunately, things are not so cut and dry.
The fact is that the more blocklists you add or install, the more likely you are to accidentally block content that you don't want to block, such as content that is totally safe or useful.
Therefore, the best option you can do is to download only one blocklist, maybe two at the most. Going any higher than that can lead to the nasty side effect of blocking torrents that are actually safe. In other words, you will heavily increase the number of times you will come up with false positives.
Select a blocklist that covers all of your bases. It should not only be compatible with whatever OS or torrent client (be it Transmission, Deluge, or any other popular torrenting software) you prefer to use but it should also be able to block all the different kinds of files you consider unwanted, useless, or harmful.
Some of the above-listed collections would be excellent choices as they focus not only on ads but spyware, trackers, and many more kinds of suspicious files associated with various IP addresses.
All you need to know is that the above blocklists are all very reputable and thorough. They will give you the extra protection you are looking for when torrenting content online. Simply download and install one of them into your client to protect your devices from any suspicious or harmful IP addresses so you can rest easy.