While Usenet and NZB platforms have existed for quite a while, they have experienced some major evolutions over the past couple of years. There are now more Usenet-based tools and NZB-based apps available than ever before. While this is for the most part a good thing, it can also mean that navigating the overwhelming number of tools out there can leave some people feeling a bit lost or confused.
Today, we're going to take a deep dive into the best NZB search engines currently available on the internet.
8 Best NZB Search Engines of Today
---
1. Easynews
If you are even remotely familiar with NZB search engines, you must have heard of Easynews already. Many places consider Easynews to be the single best NZB search engine ever and it's hard to disagree with that.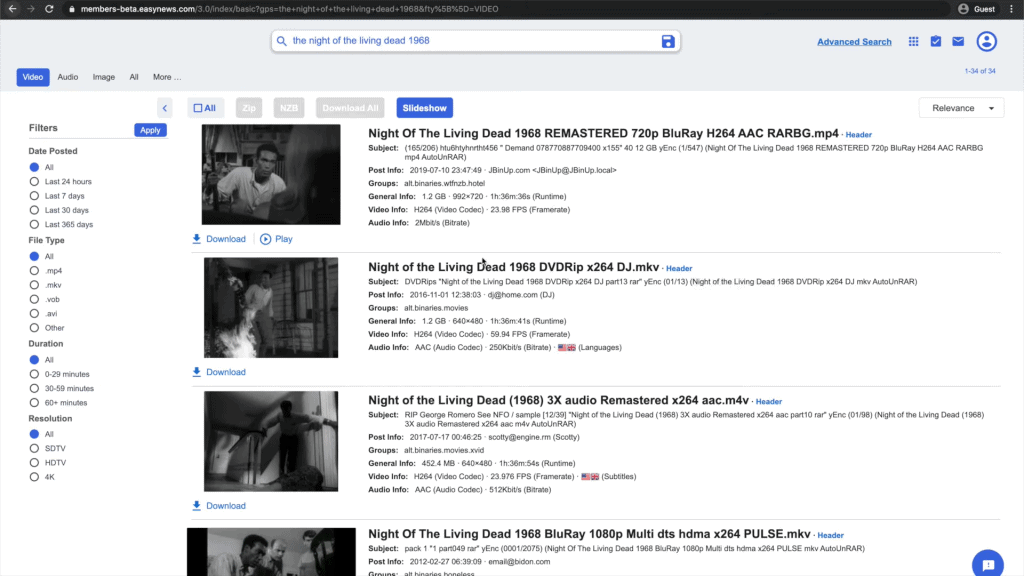 One of the great pros about Easynews is that its search engine index and capabilities are absolutely phenomenal. Easynews is guaranteed to give you the most thorough search results, making it a fantastic choice for people interested in in-depth results.
Easynews is also very mobile-friendly. You can easily use it on your smartphone no matter where you are. While it does require registration and a monthly fee, there is no extra client required as Easynews will work on just about any web browser.
2. NZBPlanet
Another undeniable choice for one of the best NZB search engines has got to be NZBPlanet. This is a fantastic database that has been around for a while and this has really helped its legacy in the long run. NZBPlanet has over a million NZB files and over 100,000 members, making it one of the best places to get yourself a lot of NZBs.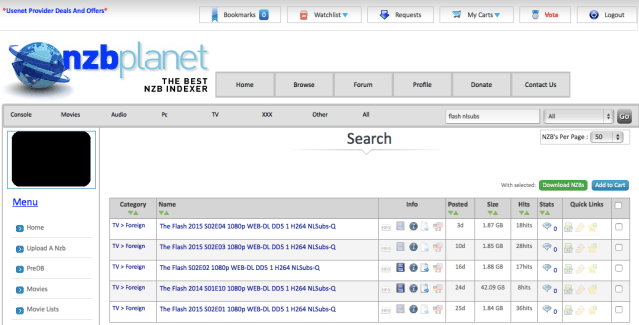 NZBPlanet also has a few great features like a calendar schedule page that helps you keep track of new and upcoming releases.
While NZBPlanet is free, a free account will force you to view ads. With a free account, you're also limited to five NZB file downloads per day. If you make the upgrade to a VIP account then you can take away these limits and download NZBs to your heart's content.
Warning
Governments and ISPs across the world monitor their users' online activities. If found streaming copyright content, you could get into serious legal trouble. Currently, your IP is visible to everyone. I strongly recommend you to get the
best VPN for torrenting
and hide your identity so that your entertainment doesn't take a bad turn.
3. Binsearch
Binsearch is another popular choice for Usenet or NZB search engines and the fact that it doesn't require you to register is probably part of the reason why it is still widely used to this day.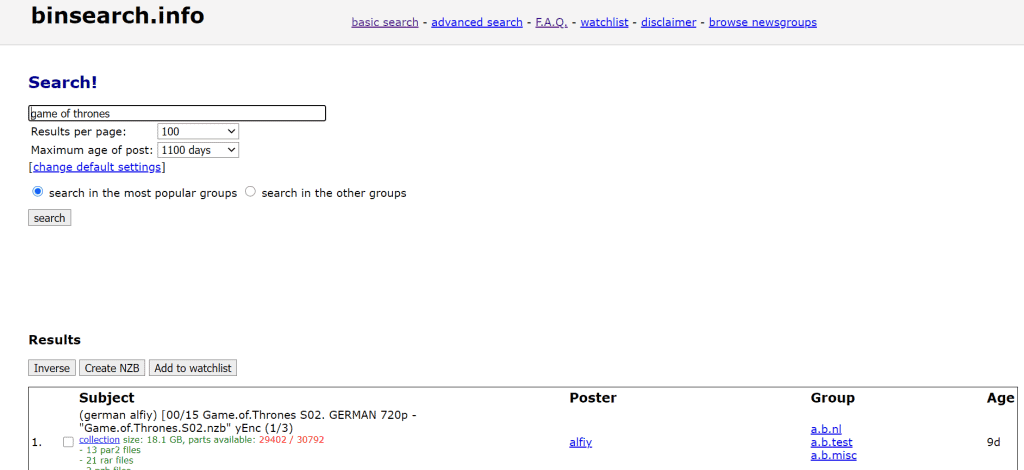 While the interface isn't the easiest on the eyes, it is still pretty straightforward. Binsearch does allow for more advanced search options but they can feel a little clumsy for those who are new to this platform.
The easiest way to find complete sets is to toggle the "only show collections" setting in the advanced search. That way you will find as many relevant NZBs as possible during your searches.
4. NZBIndex
NZBIndex at first glance seems similar to Binsearch but we would argue that it is actually better for a couple of reasons.
First, NZBIndex has a far better user interface that is easier on the eyes and feels much better organized. This has the benefit of making it more beginner-friendly. Second, the search indexes are not limited only by popularity, so you will usually get more results here compared to Binsearch.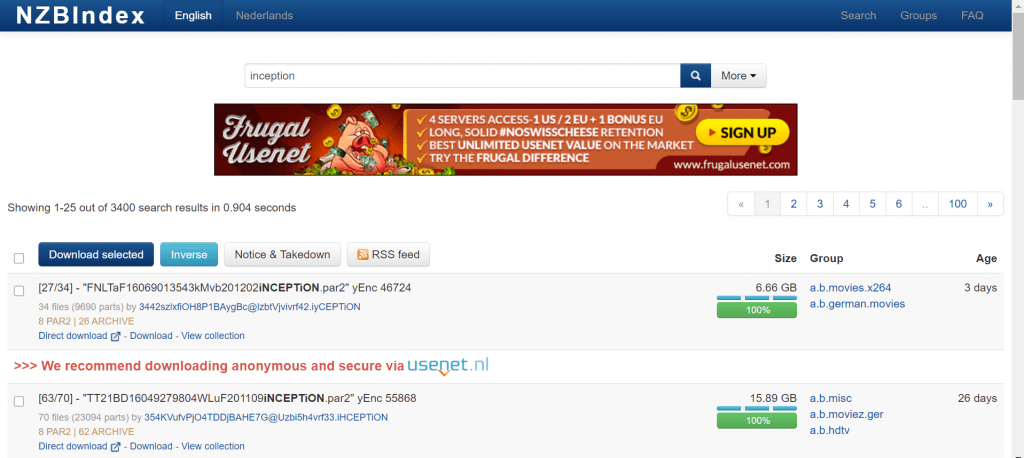 Let's not forget the fact that NZBIndex requires no registration, has minimal ads, and is capable of providing many results very quickly. This makes it one of the best NZB search engines out there.
5. NZBGeek
NZBGeek is a popular choice for many good reasons. It has an excellent community of very friendly and helpful users, which makes it good for newcomers. Another great plus is that the website itself is very well designed and is actually one of the sleekest NZB search engines out there.
NZBGeek offers a free 14-day trial, after which you will have to register by paying a yearly fee. This search engine is well worth the money as its GeekSeek search engine is very robust, quite fast, and gives you a lot of options in defining keyword details.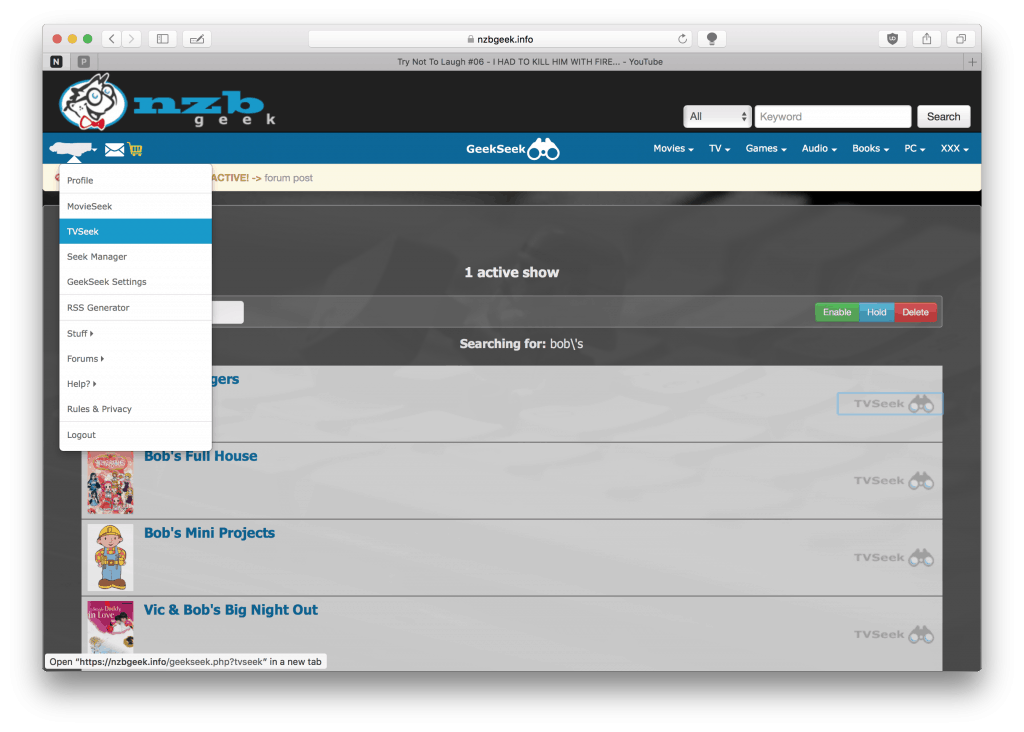 The site also lists many different categories that you can instantly browse in order to see what the top downloaded files of the past day were. You can also see these categories in more detailed ways by selecting them based on audio, video, or other criteria.
6. NZBKing
Don't be fooled by the very rudimentary looks and design of this site. NZBKing is a very robust search engine and also has hundreds of useful newsgroups.
NZBKing has a very quick turnaround time on searches and has a solid database of well-indexed files. Being active in the newsgroups is really the key, however, to getting the most out of this website.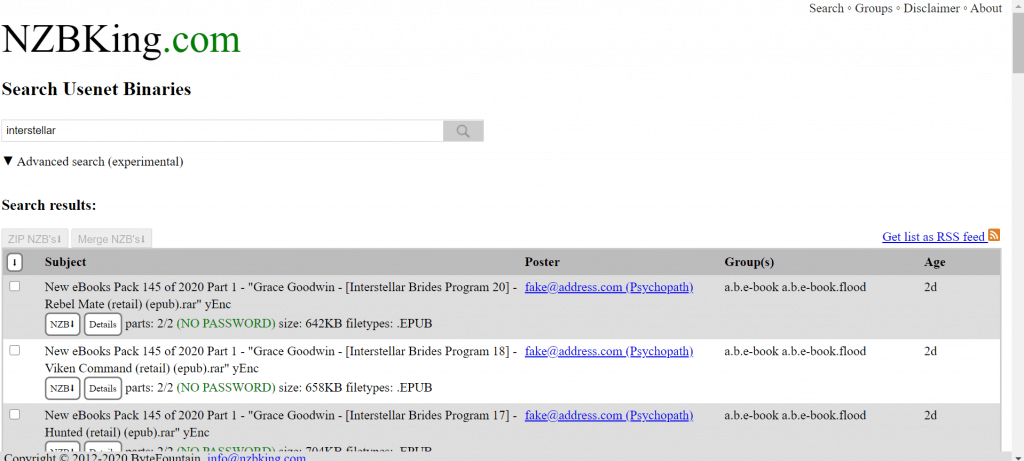 While we would consider NZBKing one of the best NZB search engines, it is not without its own set of flaws. NZBKing doesn't use any HTTPS, so it is not very secure unless you are using something like a virtual private network. Additionally, this search engine has no sorting or filtering options, which means that it may not be the best search engine for beginners.
7. NZBFinder.ws
NZBFinder is a good search engine thanks to its different yet flexible plans. There is an option for free registration that offers five free NZB downloads per day, but there is also a paid option that only cost a few dollars per month and offers unlimited downloads.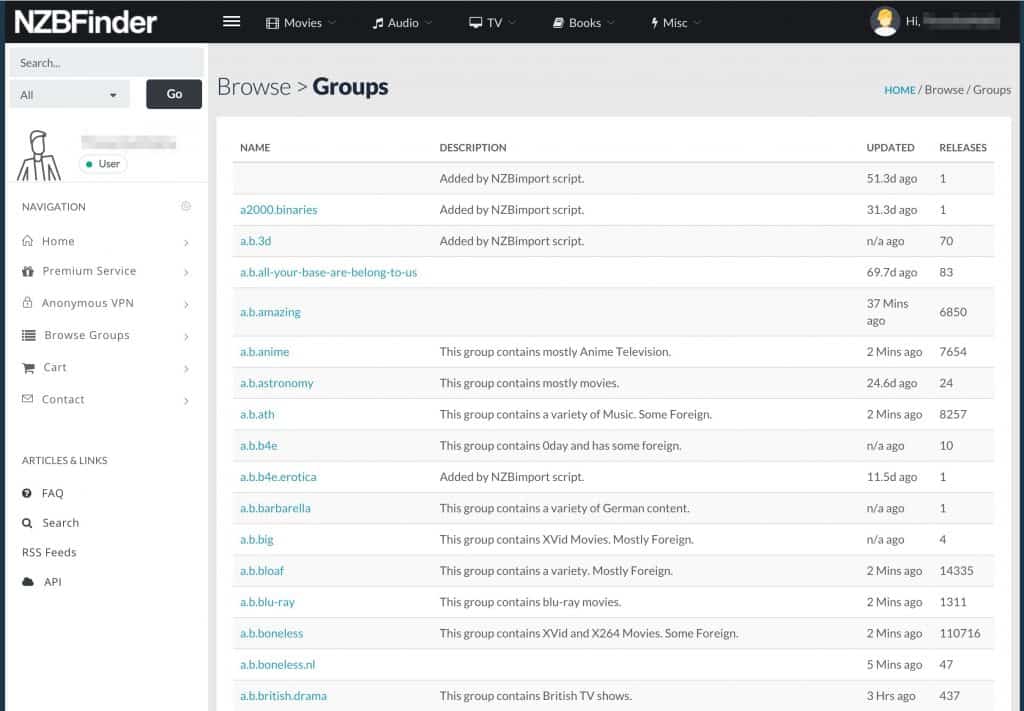 The interesting thing about NZBFinder.ws is that it offers more information on your files and downloads than most other NZB search engines. Click on a file and you'll be able to see things like the genre, year of release, any links to related sites or trailers, and even information on the file itself such as its size and the newsgroup it was posted in. You'll also be able to see the complete contents of the file before you download it.
8. NZBFriends
NZBFriends is a helpful NZB search engine as it has an exceptionally large database and thousands of newsgroups. Its database one of the largest out there.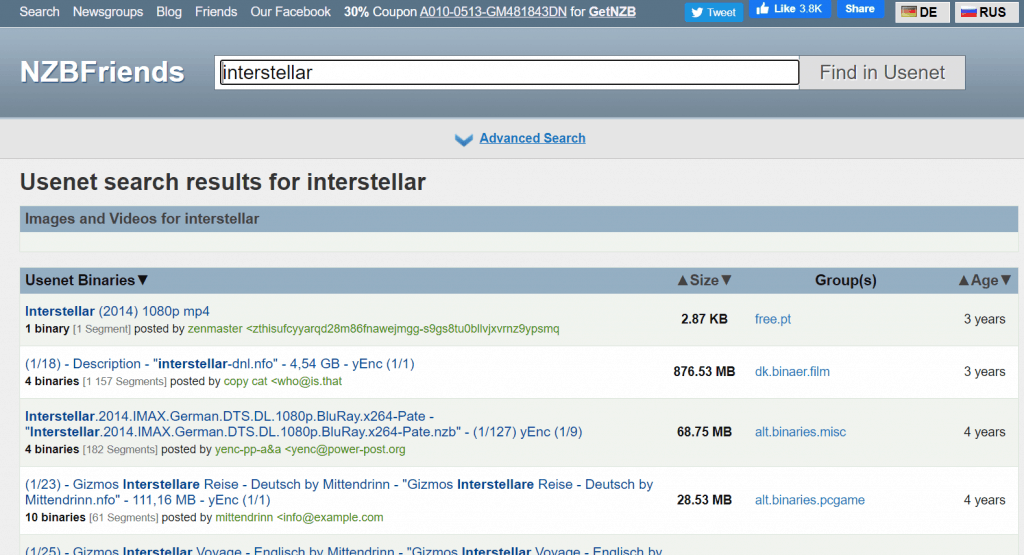 In total, NZBFriends claims to offer nearly 8 million NZB files, which makes this site simply mind-boggling. While the website and user interface are not particularly elegant, they're not terrible looking either. Combine the serviceable looks with a solid search engine and the absolutely massive database and you have yourself one of the best NZBsearch engines ever made.
As good as it is, NZBfriends does not have the best security so we highly recommend using this site only if you have a virtual private network.
As an alternative, and almost indispensable if you are planning to automate Usenet downloading with your Seedbox, you should also consider the more premium, private NZB indexers. Many of these are not free or have limitations for free account users, but they structure Usenet content in a way that makes finding things much easier and work well with Radarr, Sonarr, and many of the other Seedbox automation tools. I personally use DogNZB.
Final Thoughts
When choosing an NZB search engine, there are other important factors to consider aside from their indexing capabilities and user interface. The list above is just an overview but once you delve deeper into one of them, make sure to take a further look at the platform's retention, the maximum number of downloads, and previewing and watchlist options.
Most of these NZB search engines are being offered at no cost at all so feel free to explore which one suits best for your needs!